NovaUCD Start-Up Shortlisted for Dún Laoghaire-Rathdown County Enterprise Award
6 September 2011, LogScreen, the NovaUCD-headquartered IT security solutions company, is one of 6 businesses shortlisted for this year's Dún Laoghaire-Rathdown County Enterprise Awards.
Organised by the Dún Laoghaire-Rathdown County Enterprise Board, (DLRCEB) the County Enterprise Award categories include; 'Overall Winner', 'Most Promising Start-Up,' 'Female Entrepreneur,' 'Business Growth,' and 'Best Networker' categories, with a €6,000 prize fund attached.
LogScreen is currently developing innovative products for deployment in global financial services markets. LogScreen offers managed security solutions to small and medium-sized enterprises on the basis of business process outsourcing. LogScreen's core services comprise the integrated collection, processing, correlation, assessment, alerting and trending of security and risk information from IT systems and networks. The company was founded in 2009 by Karl Schäckermann and Matthias Jacobs both of whom have extensive experience in risk management and information technology.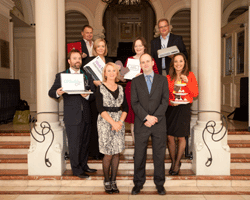 Finalists for the 2011 Dún Laoghaire-Rathdown County Enterprise Awards with DLRCEB Staff
Announcing the shortlist, Michael Johnson, CEO, Dún Laoghaire Rathdown County Enterprise Board, said, "There are plenty of good news stories out there in the small business community and the County Enterprise Awards are an ideal platform to get those small business success stories into the public domain." He added: "This year's shortlist is dominated by companies which have all cleverly harnessed technology to provide on-line services across very different business sectors. Looking at their client base, many of these small companies are already building an international client list, looking outward to export markets."
The award winners will be announced at the 'Fly Higher – Celebrating and Inspiring Enterprise' event on 20 September at the Royal Marine Hotel, Dún Laoghaire. The line-up for the evening includes Niall O' Farrell from Dragons' Den, Susan Spence from SoftCo and internationally acclaimed motivational speaker, Kevin Kelly.
ENDS
6 September 2011
For further information contact Sarah Bohan, Engage Ireland, e: info@engageireland.com or Micéal Whelan, NovaUCD, e: miceal.whelan@ucd.ie or t: + 353 1 716 3712.
Editors Notes
The other nominees for the 2011 Dún Laoghaire-Rathdown County Enterprise Awards are:
Simon Lunt, bgate Technology is an online order-capture and invoicing system that connects buyers and suppliers in a cost-efficient way. Established in 2004 and based in the Media Cube, Dún Laoghaire, the business operates in the QSR (Quick Service Restaurants) and food service sectors and has plans to enter the Healthcare, Tourism and Government/Public sector markets. The company employs four full-time and one part-time staff. www.bgate.com
Joanne Gillen, Bid Management Services offers a full range of tender management services. Established in 2008, the business has a team of specialist bid consultants managing bid projects and preparing professionally written proposal and response documents for both public and private sector tenders. The company employs seven full-time and two part-time staff. www.bidmanagement.ie
Dr Darach O Ciardha, GP Buddy is Ireland's only online medical directory. Launched in early 2010 by two Dublin-based GPs, Dr Darach Ó Ciardha and Dr Shane McKeogh, the business brings healthcare professionals together by providing GPs with free access to searchable information on providers of public and private healthcare in Ireland, at primary and secondary care level. The firm employs three full-time and three part-time staff. www.gpbuddy.ie
Kelly Felton, PlanMyParty is a new personal planning business that makes exceptional events accessible to all. Run by sole trade Kelly Felton, this Blackrock-based business organises events of all sizes from large scale corporate functions to the smaller home based party. Kelly has a passion for design and good food and thrives on organisation and entertaining. www.planmyparty.ie
Mary Cronin, Web Team International Ltd provides a range of bespoke services - online system integration, website design, development and maintenance, online marketing strategy and ecommerce consultation - to clients in Ireland and the UK. The business started life in Dalkey in December 2010 and now employs seven people. www.webteaminternational.com
NovaUCD, the Innovation and Technology Transfer Centre, is the hub of innovation and knowledge transfer activities at University College Dublin. NovaUCD is responsible for the commercialisation of intellectual property arising from UCD research and for the development of co-operation with industry and business. NovaUCD as a purpose-built centre also nurtures high-tech and knowledge-intensive enterprises such as LogScreen. NovaUCD has been funded through a unique public-private partnership that includes AIB Bank, Arthur Cox, Deloitte, Enterprise Ireland, Ericsson, Goodbody Stockbrokers, UCD and Xilinx. www.ucd.ie/nova