DOCOsoft Software to Drive Claims Efficiencies for a Leading Lloyd's Insurance Syndicate
DOCOsoft today announced that Ark Syndicate Management Limited at Lloyd's has gone live with its DOCOsoft claims solution. Ark, which has an annual underwriting capacity of £400 million, has adopted the DOCOsoft package, an ECF2 (electronic claims file) workflow solution, to enable its claims process to become quicker and more efficient.
DOCOsoft a document management and workflow software solutions company operates globally from its headquarters in NovaUCD and from offices in London and Tokyo.
The DOCOsoft claims solution, offering Lloyd's and Company underwriters an 'all-in-one' ECF2 workflow application across both markets in London, processes real-time claims workflow triggers that will seamlessly extract relevant information from Ark's in-house insurance systems. The solution will alert Ark's claims teams with the latest claims data through real-time dashboards.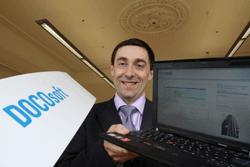 Pictured at NovaUCD is Aidan O'Neill, Managing Director, DOCOsoft
Utilising the single sign-on link to the ECF2 claims acceptance screens, the DOCOsoft package will ensure that Ark's entire claims process is faster and less cumbersome. The solution will also enable Ark's claims operations team to organise and manage functions such as peer review, workload assignment and claims authority limit controls.
The DOCOsoft claims solution is a complete lifecycle claims workflow solution which drives efficiencies in the insurance adjustment process, also facilitates market service level agreements (SLA) compliance and optimises the quality of service offered to the assured client.
James Masson, Head of Claims & Legal, Ark Syndicate said, "We are confident that the DOCOsoft claims system will enable our claims team to enhance the service it provides to our clients and assist us in meeting the Claims Adjusting and Management requirements in the Lloyd's Minimum Claims Standards."
Aidan O'Neill, Managing Director, DOCOsoft, said, "DOCOsoft has operated in the Lloyd's market for over 12 years, providing claims, workflow, document management and scanning solutions. We have worked with Ark since 2007 and look forward to continuing to support them as they meet the London Market claims challenges that lie ahead." He added, "Ark has become the sixth Lloyd's syndicate to adopt the DOCOsoft claims solution."
DOCOsoft's software solutions incorporate technological know-how gain by Aidan O'Neill from more than 15 years experience in the Japanese software industry. Other DOCOsoft customers in the London Market currently include Managing Agency Partners, Argo Managing Agency and Whittington.
ENDS
19 May 2011
For further information contact Micéal Whelan, NovaUCD, t: +353 1 716 3712, e: miceal.whelan@ucd.ie, Aidan O'Neill, Managing Director, DOCOsoft, t: +353 87 2481 428, e: aidan.oneill@docosoft.com or Roddy Langley, Lysander PR, t: +44 7740 633 296, e: roddy@lysanderpr.com,
Editors Notes
DOCOsoft develops document management and workflow software solutions for global markets. DOCOsoft solutions manage information for all types of business, with clients in the financial services, insurance, engineering, transport, distribution, manufacturing and education sectors. To deliver best-of-breed solutions, DOCOsoft works in alliance with carefully selected partners which include the Japanese company Ricoh.
Ark Syndicate Management Limited manages the underwriting of Syndicate 4020 at Lloyd's. The Syndicate underwrites a diversified and balanced portfolio of reinsurance and insurance business. The high quality management has successfully built a team of underwriters not only experienced in their specialist areas but also have a clear understanding of our clients' and producers' needs and to how cement long term relationships with all parties. Ark currently benefits from Lloyd's market ratings of AM Best A (Excellent) and S&P A+ (Strong) and the managed stamp capacity for 2011 is £400m.
NovaUCD, the Innovation and Technology Transfer Centre, is the hub of innovation and knowledge transfer activities at University College Dublin. NovaUCD is responsible for the commercialisation of intellectual property arising from UCD research and for the development of co-operation with industry and business. NovaUCD as a purpose-built centre also nurtures high-tech and knowledge-intensive enterprises such as DOCOsoft. NovaUCD has been funded through a unique public-private partnership that includes AIB Bank, Arthur Cox, Deloitte, Enterprise Ireland, Ericsson, Goodbody Stockbrokers, UCD and Xilinx.