HeyStaks Develops Top Mobile App and to Represent Ireland at the Vodafone Mobile Clicks 2011 Final
HeyStaks, the social web-search start-up company with offices in NovaUCD and San Francisco, has been selected to represent Ireland at the Vodafone Mobile Clicks 2011 Final. This competition has a €225,000 prize fund.
Already known as the biggest start-up competition of its kind, Vodafone Mobile Clicks 2011 is an international contest to identify and develop the best, most innovative, mobile internet start-up companies. This year the competition was open to start-up companies in Germany, the Netherlands, Portugal, Ireland, Spain, Turkey and the United Kingdom that have a mobile site, service or application.

Dr Peter Briggs, co-founder, HeyStaks with David Ward, mobile internet proposition manager, Vodafone Ireland
HeyStaks was chosen as the overall winner of the Irish leg of this competition following presentations by 5 finalists, representing the top mobile products recently developed in Ireland, to a judging panel. Criteria used to select the winner included; originality; creativity and innovation; technical and operational feasibility; economic and financial viability; value to end-users; and the quality of the management team.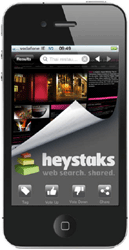 The HeyStaks Mobile App
HeyStaks will now represent Ireland in the finals, which includes the winners from the 6 other participating countries, at the PICNIC festival in Amsterdam, The Netherlands on 15 and 16 September.
HeyStaks, a social web search service launched earlier this year, enables users to collaborate anonymously with friends and people of like minded interest as they search, to get better, more relevant results recommended by people they trust around topics that matter to them. HeyStaks works with individuals' favourite search engines so they can continue searching as normal. HeyStaks also allows consumers to enjoy an original mobile search experience for phones and tablets and enables search synchronisation across multiple devices (computer, phone, tablet, TV).
On being selected for the Vodafone Mobile Clicks 2011 Final, Jonathan Dillon, CEO, HeyStaks said, "We are delighted to have won Vodafone's Irish competition, from among a strong field of Irish innovators, and we are excited to participate in the finals in Amsterdam. This is great timing for us as we are seeing very positive consumer reaction to our iPhone and Android phone apps, and will be releasing our new apps for iPads and Android tablets in September. These products represent a new and original approach to mobile search, and enables consumers to fulfil all of their search needs in one place, faster, and more accurately via the HeyStaks apps. And for those carrying multiple devices, this is a really easy way for one to sync their searches across devices."
HeyStaks, a University College Dublin (UCD) spin-out company, was founded in 2008 by Dr Peter Briggs, Dr Maurice Coyle and Professor Barry Smyth. HeyStaks is based on technology developed as part of Professor Smyth's research group and the CLARITY Centre for Sensor Web Technologies, a Science Foundation Ireland funded research centre between UCD, Dublin City University, and the Tyndall National Institute.
During 2010 HeyStaks secured venture funding from The Ulster Bank Diageo Venture Fund, which is managed by NCB Ventures. HeyStaks currently employs a staff of 18 between its Irish headquarters in NovaUCD, the Innovation and Technology Transfer Centre, and offices in San Francisco where company CEO Jonathan Dillon, a former Vice-President of Corporate Development of Yahoo!, is based.
The judges for the final include Rudy de Waele, founder of Mobile 2.0 Europe and dotopen; Peter Barry, Head of VC and Start-up at Vodafone Ventures; Paul Jozefak, Neuhaus Partners; Reshma Sohoni, Partner at Seedcamp, and Lee Epting, Director of Content Services at Vodafone Group. The overall winner will receive €150,000, the runner-up €50,000 and the third placed company €25,000.
ENDS
28 July 2011
For further information contact Micéal Whelan, NovaUCD, e: miceal.whelan@ucd.ie, t: +353 (0)1 716 3712 or Jonathan Dillon, HeyStaks, e: jonathan.dillon@heystaks.com, t: +1 415 9903726.
Editors Notes
HeyStaks is a unique technology that allows searchers to harness their social graphs as they search on their favourite search engines (Google, Yahoo!, Bing etc), effectively bringing together the content sharing world of the social networks and the query-based search world of mainstream search engines. HeyStaks delivers community-enhanced search results that are more personalised and relevant than conventional search engine results, and is fully integrated with the leading search engines. HeyStaks mobile solutions represent a new way and efficient way of searching via phones and tablets. HeyStaks was founded by Professor Barry Smyth, Dr Maurice Coyle and Dr Peter Briggs. The company has offices in NovaUCD and in San Francisco.
Vodafone is Ireland's leading total communications provider with 2.4 million customers across mobile, fixed line and DSL. At 31 March 2011 Vodafone Ireland's mobile telecoms base was 2.2 million. Vodafone is one of the world's largest mobile communications companies by revenue with approximately 371 million customers in its controlled and jointly controlled markets as at 31 March 2011. Vodafone currently has equity interests in over 30 countries across five continents and more than 40 partner networks worldwide.
Vodafone Mobile Clicks is a Vodafone initiative designed to accelerate innovation in the mobile internet sector across Europe. Last year's Vodafone Mobile Clicks winner was Cardmobili, a service that allows customers to replace their points, membership and loyalty cards with a mobile app. Customers simply have to show and scan their mobile phone when required, and the card's information is stored both in the cloud and on the mobile phone, syncing after every use. Since winning the competition in September 2010, Portugal-based Cardmobili has launched its service on Windows Phone 7, translated it into French and Spanish and also seen its user base increase by 80%.
NovaUCD, the Innovation and Technology Transfer Centre, is the hub of knowledge transfer activities at University College Dublin. NovaUCD is responsible for the commercialisation of intellectual property arising from UCD research and for the development of co-operation with industry and business. NovaUCD as a purpose-built centre also nurtures new technology and knowledge-intensive enterprises such as HeyStaks. NovaUCD has been funded through a unique public-private partnership that includes AIB Bank, Arthur Cox, Deloitte, Enterprise Ireland, Ericsson, Goodbody Stockbrokers, UCD and Xilinx.