NovaUCD-based Asimil8 one of Four Finalists in the Dublin Final of Bank of Ireland Bright Idea's Challenge Competition
Bank of Ireland Business Banking announces, today, Tuesday 24 March 2009, the four finalists selected to the take part in the Dublin final of its 'Bright Ideas Challenge' which takes place on Wednesday 25 March from 4.00-9.30pm in the Stillorgan Park Hotel in Dublin. The four selected companies for the Dublin final of the competition are Asimil8, which is based at NovaUCD, iFoods, Trezur and Velocity Couriers who will present to a panel of judges and a public audience on the day. The final will form part of the Bank's first Business Advice Show during the Dun Laoghaire-Rathdown Enterprise Week.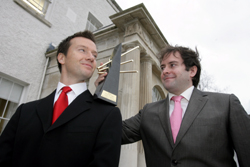 Paul Groarke and Garrett Hussey, co-founders, Asimil8
Held in conjunction with the City & County Enterprise Boards the 'Bright Ideas Challenge' aims to encourage and support both innovation and enterprise in business start-ups, SMEs and individuals who are in the beginning of early stages of development. The chosen winner will receive a cash prize of €5,000, along with a mentoring and training package from the associated County Enterprise Board valued at €5,000. They will also go forward to the national final of the Bright Ideas Challenge in early 2010 with the opportunity to win another attractive investment package.
"The Bright Ideas Challenge is open to all start-ups, SMEs, sole traders or social enterprises. It was developed to offer both financial and practical business support to start-up SMEs. Finalists are chosen for their innovative and differentiated product or service. It offers them the opportunity to showcase their business and grow their business to the next level of its development", said Damian Young, Head of Bank of Ireland's Small Business Segment.
The four shortlisted companies for the Dublin final of the 'Bright Ideas Challenge' are:
Asimil8
Established in 2008, Asimil8 is an e-learning venture that provides immersive education for languages and other subjects through virtual world and gaming technology. It is designed to engage students in the same way that video games keep their attention by "immersing" students in real-life settings where they must use their knowledge. Asimil8 is located at NovaUCD, the Innovation and Technology Transfer Centre in UCD. It was co-founded by Paul Groarke and Garrett Hussey.
iFoods
iFoods Limited owns and operates the website lookandtaste.com. The website features over 230 professionally produced video recipes ranging from the basic scrambled eggs to the daunting souffle. Lookandtaste.com also provides the world's first online video glossary for food terms with over 300 30 seconds videos produced to illustrate some of the more popular cooking terminologies. The website also allows members to upload their own content. The company is located in the Digital Hub in Dublin 8. Its Chief Executive is Sean Fee.
Trezur
Incorporated in 2007, and launched in beta 2 weeks ago, Trezur is an online music recommendation service. It provides listeners with a widely distributed mechanism to find new music. Its recommendation engine combines the best of people-generated and automated musicology analysis to provide listeners with relevant recommendations. It also provides users with an opportunity to get the music from legitimate sources across the internet. The company is located in Foxrock, Co. Dublin. The business is headed up by Dan Laffan.
Velocity Couriers
Established in 2008, Velocity Couriers provides an environmentally friendly bicycle courier service within Dublin's city centre. Using specially designed cargo bikes, it carries small to medium loads more quickly, cheaply and with no emissions. Customers can save money and help to reduce emissions in the city, while at the same time lowering their carbon footprint. The company is based on Crumlin Road in Dublin 12. The business is headed up by Graham White.
Bank of Ireland's Business Advice Shows are a series of dynamic business events which will be held around the country featuring guest speakers and offering networking opportunities for the Bank's business customers. The Dublin Business Advice Show will showcase information needed to start a business, including an enterprise exhibition with over 30 exhibitors, a Dun Laoghaire-Rathdown Chamber of Commerce networking event as well as a number of informative talks given by expert business guest speakers including Gavin Duffy from Bank of Ireland's sponsored Dragons' Den, Krisha De, author of '42 Rules of Marketing in a Recession' and Paul Fagan, Ireland's leading expert on business coaching.
Ends
March 24 2009
For further information contact Micéal Whelan, NovaUCD, e-mail: miceal.whelan@ucd.ie, tel: (01) 716 3712.