Events in the UCD School of Philosophy
Upcoming events in 2015
See here for the list of Visiting speakers this semester. See also News.
22 August. Symposium on Philosophy and the Irish School. (Programme: Philosophy and the Irish School)
Venue: Newman House, 86 St Stephen's Green, Dublin 2.

In light of the decision to include Philosophy as an optional subject in the Junior Cycle, the focus of the day will be exploratory and our shared goal is to inquire: How ought philosophy be taught and promoted within Irish schools? To this end, we are particularly interested in the role of the pedagogy Philosophy for Children (P4C) in fostering philosophical thinking among young people.

The day will begin with short talks by the NCCA Education Officer Annette Honan (who is steering the introduction of philosophy in schools); and Professor Keith Topping (Psychology, Dundee) and Dr Philomena Donnelly (Education, DCU) who have both worked extensively in researching and promoting philosophy for children (10-12). These introductory talks will be followed by a P4C taster session facilitated by secondary school teacher Marelle Rice who has promoted philosophy among teachers in England and Wales to high acclaim (1-3pm). Finally, the day will close with a roundtable discussion (3.30-5pm).

We have received confirmation of attendance from a diverse range of individuals including policy makers, educationalists, and journalists (including the philosophy graduate and Education Correspondent for The Irish Times Joe Humphreys). We are also delighted that (pending other commitments) Sabina Higgins (who is also a philosophy graduate) has agreed to attend.
1 September. Public Lecture by Professor Karsten Harries (Yale), Heidegger and Cassirer at Davos and the Present State of Philosophy.
Attendance is free, but space is limited. Please book a place with Helen Kenny.


Events in 2015
21 January 2015. Workshop with Prof Dan Zahavi, (University of Copenhagen). (Zahavi Workshop Programme)

22-25 January 2015
Heidegger and "the jews" Conference
Bibliothèque Nationale de France, Centre Culturel Irlandais – Paris
www.heidegger-et-les-juifs.com
Coordinated by
Bibliothèque Nationale de France
La Règle du Jeu
School of Philosophy, University College Dublin
Faculté de Philosophie, Université de Strasbourg
Le Centre Culturel Irlandais – Paris
PHILéPOL – Université Paris Descartes

Heidegger and "the jews"

6 February. Workshop with Prof Judith Butler, UC Berkeley, and Prof Jason Stanley, Yale.

19 March. Public Lecture by Prof Richard Kearney (Boston College) - Epiphanies. Hopkins, Scotus, Joyce. More details here: Epiphanies
The lecture was chaired by UCD President Emeritus Patrick Masterson. The event was sponsored by the Newman Centre and UCD Seed Funding.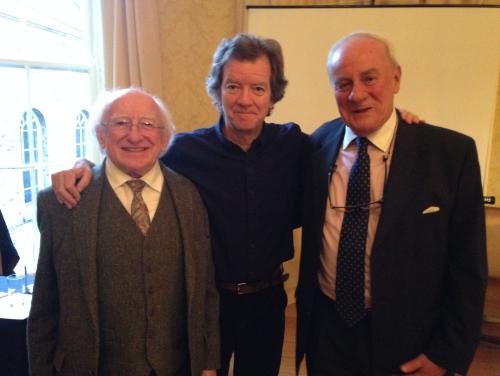 Photo: L-R, Michael D Higgins (President of Ireland), Prof Richard Kearney (Boston College), Prof Patrick Masterson (UCD President Emeritus)


28 March. Philosophy, Psychology and Cognitive Science Graduate Symposium - Intersubjectivity

10 & 11 April. Dublin Graduate Conference - Living in Time

16 April. Open Evening for Graduate Programmes at UCD School of Philosophy

14 & 15 May. Edith Stein and Phenomenology Workshop - more details here
8 - 13 June. Reaches of Pragmatism: Summer Institute in American Philosophy (Programme)
18 June. Prof. Luke Gibbons will give a lecture on Joyce's Ghosts