Events in the UCD School of Philosophy
Upcoming events in 2015
See here for the list of Visiting speakers this semester. See also News.
22 August. Symposium on Philosophy and the Irish School. (Programme: Philosophy and the Irish School)
Venue: Newman House, 86 St Stephen's Green, Dublin 2.

In light of the decision to include Philosophy as an optional subject in the Junior Cycle, the focus of the day will be exploratory and our shared goal is to inquire: How ought philosophy be taught and promoted within Irish schools? To this end, we are particularly interested in the role of the pedagogy Philosophy for Children (P4C) in fostering philosophical thinking among young people.

The day will begin with short talks by the NCCA Education Officer Annette Honan (who is steering the introduction of philosophy in schools); and Professor Keith Topping (Psychology, Dundee) and Dr Philomena Donnelly (Education, DCU) who have both worked extensively in researching and promoting philosophy for children (10-12). These introductory talks will be followed by a P4C taster session facilitated by secondary school teacher Marelle Rice who has promoted philosophy among teachers in England and Wales to high acclaim (1-3pm). Finally, the day will close with a roundtable discussion (3.30-5pm).

We have received confirmation of attendance from a diverse range of individuals including policy makers, educationalists, and journalists (including the philosophy graduate and Education Correspondent for The Irish Times Joe Humphreys). We are also delighted that (pending other commitments) Sabina Higgins (who is also a philosophy graduate) has agreed to attend.
1 September. Public Lecture by Professor Karsten Harries (Yale), Heidegger and Cassirer at Davos and the Present State of Philosophy.
Attendance is free, but space is limited. Please book a place with Helen Kenny.


Events in 2015
21 January 2015. Workshop with Prof Dan Zahavi, (University of Copenhagen). (Zahavi Workshop Programme)

22-25 January 2015
Heidegger and "the jews" Conference
Bibliothèque Nationale de France, Centre Culturel Irlandais – Paris
www.heidegger-et-les-juifs.com
Coordinated by
Bibliothèque Nationale de France
La Règle du Jeu
School of Philosophy, University College Dublin
Faculté de Philosophie, Université de Strasbourg
Le Centre Culturel Irlandais – Paris
PHILéPOL – Université Paris Descartes

Heidegger and "the jews"

6 February. Workshop with Prof Judith Butler, UC Berkeley, and Prof Jason Stanley, Yale.

19 March. Public Lecture by Prof Richard Kearney (Boston College) - Epiphanies. Hopkins, Scotus, Joyce. More details here: Epiphanies
The lecture was chaired by UCD President Emeritus Patrick Masterson. The event was sponsored by the Newman Centre and UCD Seed Funding.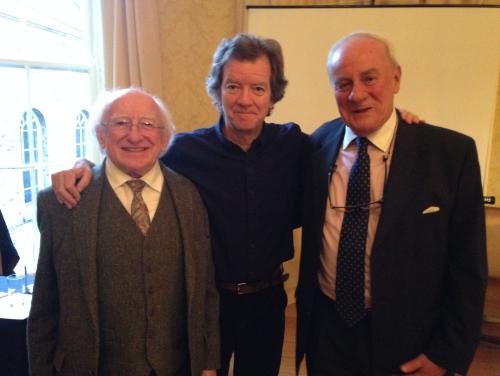 Photo: L-R, Michael D Higgins (President of Ireland), Prof Richard Kearney (Boston College), Prof Patrick Masterson (UCD President Emeritus)


28 March. Philosophy, Psychology and Cognitive Science Graduate Symposium - Intersubjectivity

10 & 11 April. Dublin Graduate Conference - Living in Time

16 April. Open Evening for Graduate Programmes at UCD School of Philosophy

14 & 15 May. Edith Stein and Phenomenology Workshop - more details here
8 - 13 June. Reaches of Pragmatism: Summer Institute in American Philosophy (Programme)
18 June. Prof. Luke Gibbons will give a lecture on Joyce's Ghosts



Events in 2014
31 January. Philosophy and Literature Graduate Symposium. Topic: "Heroes".
20-21 February. Conference: Is there a phenomenology of unconsciousness?. In association with the UCD International Centre for Newman Studies, the French Embassy in Dublin, and Ecole Normale Supérieure, Archives Husserl, Paris.
28 February. Public Lecture by Prof Richard Kearney, 'Poetics of the Sacred‌'
7-8 March. 3rd annual meeting of the Association of Adorno Studies. Newman House, 85/86 St Stephen's Green, Dublin 2.
29-30 March 2014. Dublin Graduate Philosophy Conference. See: tiny.cc/duality
31 March - 2 April. Agnes Cuming Lectures in Philosophy by Prof J David Velleman (New York University) on "A Relativist Metaethics."
4 April at 4 pm. Public Lecture by Prof Bernard McGinn, 'Comprehending the Incomprehensible: John Scottus Eriugena as Mystic‌'. Prof McGinn is the Naomi Shenstone Donnelley Professor Emeritus of Historical Theology and of the History of Christianity, University of Chicago. The lecture will take place in Newman House, 85/86 St Stephen's Green, Dublin 2. Admission is free but space is limited. Those wishing to attend should book a place with the UCD School of Philosophy.
5 April. Dr Charlotte Blease, IRC Postdoctoral Fellow in UCD School of Philosophy, is speaking at the TEDxFulbright event in Dublin. Her talk is entitled 'The Medicine Game: Healthcare's Dirty Secrets and What Everyone should Know about the Art of Medicine.' TEDxFulbrightDublin will comprise a full-day program for 100 participants with 16 talks of between 5 and 18 minutes, 3 networking breaks, lunch, facilitated activities and a closing reception. Visionary, dynamic, and succinct talks will be delivered by rising members, established alumni and friends of the Fulbright community based on the TED conference structure. Speakers are composed of researchers, entrepreneurs, designers, musicians, performers, and more.
Please see the video of her talk in our "News" section.


30-31 May. International Conference on "Philosophy, Literature, America", organized by The American Voice Project (american-voice.org). Conference will take place at Newman House. Participation is free but space is limited. To confirm your attendance, or with any other enquiries, please email americanvoice@ucd.ie
4-6 June. University College Dublin will host the Royal Institute of Philosophy Annual Conference on 4-6 June 2014. The topic will be 'Supererogation'. See here for more details: RIP Supererogation Conference
18 June: Common Minds Workshop with Philip Pettit
20 June: Public Lecture by Philip Pettit: "The Infrastructure of Democracy"
Please see the video of his talk in our "News" section.
21 June: Garret FitzGerald School with Philip Pettit
23 June: Collective Responsibility Workshop with Philip Pettit
Further details to be announced soon. Queries to iseult.honohan@ucd.ie
19-20 June. Conference on The Future of the Body: Phenomenology, Medicine, and the (Post)Human. Organised by Dylan Trigg (UCD) and Luna Dolezal (Trinity). Hosted by Trinity College Dublin.
24-26 June. Conference: Psychotherapy and the Placebo Effect: an Ethical Analysis.
27-28 June Conference: Hegel and Resistance
6 October. Second Annual Front Line Defenders Lecture. In association with UCD School of Philosophy, UCD School of Politics & International Relations, UCD School of Law and TCD School of Law.
"Is it Possible to be Safe Online?" by Bruce Schneier, computer security expert. Please click here for a video of his talk.
Click below for the video of his talk.

17-18 October. Workshop: 'Conscience, Conscientious Objection and Whistle-Blowing'. See the Conscience Project page for further details.

5-7 November: Conference Phenomenology of Cognitive Experiences.
13-15 November. Workshop: 'Forgiveness, mercy and pardons'. Organised by Christopher Cowley.
21 & 22 November. Society for Women in Philosophy (Ireland) Annual Conference: 'Women's Bodies'.
Full programme.
Registration is essential (
here
).
24 November. As part of the President of Ireland's Ethics Initiative, the School of Philosophy will hold an open panel discussion at the RIA at 6pm on Monday 24 November.
The event is free and open to all, but registration is essential.
For further information see
link
. To register, email
conscienceproject2014@gmail.com

20 November 2014. Dermot Moran, delivered an invited address, "Dialogue and Distrust: Is Intercultural Dialogue Possible?" to the Philosophy in the Public Space Conference to celebrate UNESCO World Philosophy Day, Institute of Philosophy, Russian Academy of the Sciences, Moscow, RUSSIA.