UCD Physics team contribute to successful deployment of Irish LOFAR Radio Telescope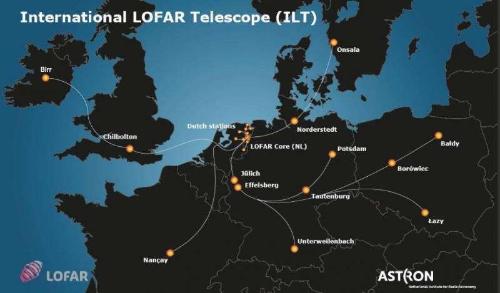 The International LOFAR Telescope Array
The LOw Frequency ARray (LOFAR) is a state-of-the-art interferometric radio telescope that uses digital signal processing and high-performance computing to conduct astronomy in the 10-240 MHz (1-20 m) region of electromagnetic spectrum. After 10 years of planning and fund-raising, including a visit to the European Parliament in November 2013, the Irish LOFAR consortium during summer 2017 installed an international LOFAR station in Birr Castle Demesne, Co. Offaly. Irish membership of the International LOFAR Telescope is funded by the Department of Jobs, Enterprise and Innovation (announcement).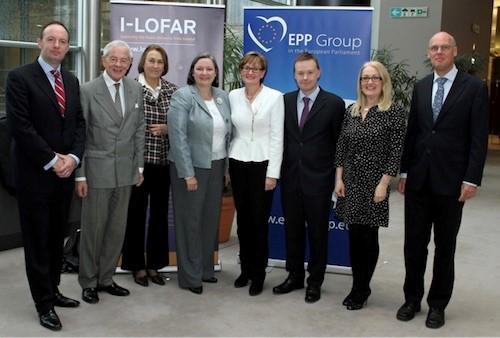 I-LOFAR lobbying for support at the European Parliament
UCD participation in the LOFAR project was supported by UCD Research, through a UCD Strategic and Major Initiatives Scheme award, as well by UCD Science and the UCD School of Physics. Assoc. Prof. John Quinn was also a co-investigator on the successful SFI Research Infrastructures application that provided €1.5M towards the overall €2M cost of purchasing and installing a LOFAR station in Birr.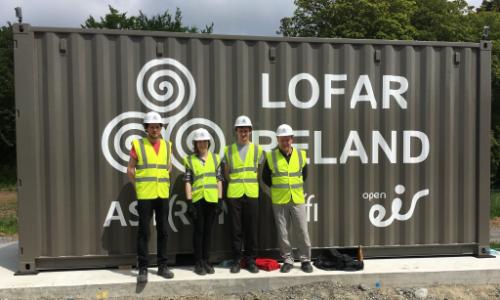 The UCD Physics I-LOFAR team: Sean Mooney, Rachel Dunwoody, Kevin Flanagan, John Quinn
The UCD team, consisting of Assoc. Prof. John Quinn, Ph.D. student Sean Mooney, and undergraduate Physics with Astronomy and Space Science students Rachel Dunwoody and Kevin Flanagan, contributed to the assembly and installation of the I-LOFAR station in Birr during a 10-week spell in May - July 2017, in a team led by Peter Gallagher and Joe McCauley of Trinity College Dublin.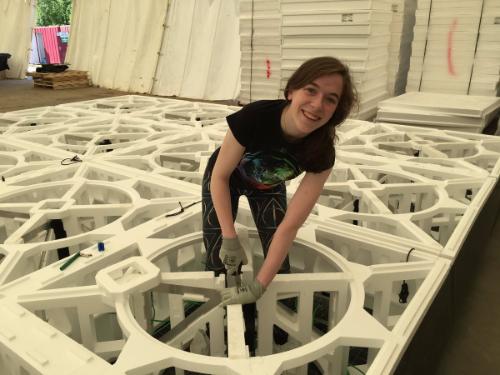 Rachel Dunwoody assembling High-Band Antennae tiles

The station passed its site acceptance test by engineers from ASTRON and has made its first all-sky images. It will be officially switched on by Minister of State for Training and Skills John Halligan on 27th July.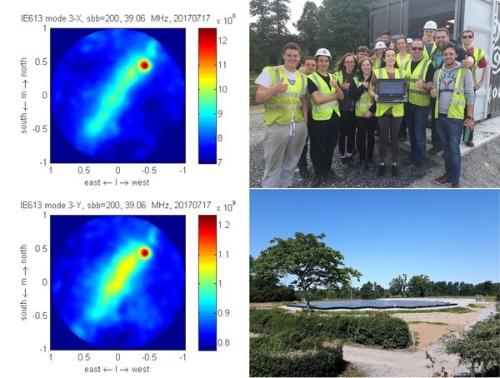 I-LOFAR first light!
LOFAR is a software telescope that produces massive amounts of data and needs very high-performance computing for its successful operation. It will provide invaluable training for students in Information and Computing Technology and Big Data, in addition to Astrophysics, as well as being a focal point in Ireland for science education and outreach. Students interested in pursuing PhD research projects with LOFAR, in particular the study of jets from Active Galactic Nuclei, should contact John Quinn.
Contact details:
Assoc. Prof. John Quinn, High-Energy Astrophysics Group
email: john.quinn@ucd.ie
twitter: @JohnQuinnUCD
websites:
http://www.astrophysics.ucd.ie
http://www.lofar.ie