The Chester Beatty Library
by Celine Ward, Reference Librarian of the Chester Beatty Library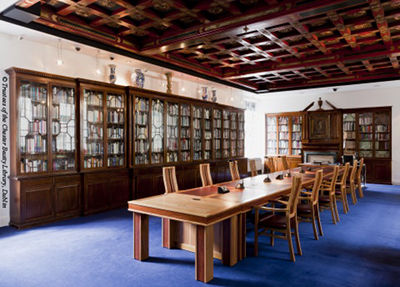 The Chester Beatty Library is a public charitable trust established under the will of the late Sir Alfred Chester Beatty, which was granted probate in 1969. The Library is in the ownership of a Board of Trustees who hold it for the use and benefit of the public. Chester Beatty's library has been described as the finest collection of manuscripts and books made by a private collector in the 20th century. It includes representative samples of the world's heritage (artistic, religious and secular) from about 2700 BC to the present century.
The Western treasures of the Library include some of the earliest sources on papyrus for the bible and a great library of Manichean texts. The Biblical Papyri, dating from the second to the fourth century AD, consist of the earliest known copies of the four gospels and Acts of the Apostles, the Letters of St Paul, the Book of Revelation and various very early Old Testament fragments. Armenian and Western European manuscripts from medieval, Renaissance and modern times, prints, early and fine books and bindings complete a remarkable conspectus of the arts of manuscript production and printing from many cultures and periods.
Over 6,000 individual items, mainly manuscripts and single-page paintings and calligraphies, make up the Islamic Collections. This includes more than 260 complete and fragmentary Qur'ans, some dating from the late eighth and ninth centuries and including the work of the leading calligraphers of the Islamic world.
The East Asian Collections include a fine series of albums and scrolls from China, the largest collection of jade books from the Imperial Court outside China and a large collection of textiles and decorative objects. The Japanese holdings contain many superb painted scrolls from the 17th and 18th century, woodblock prints by Hiroshige and Hokusai and many others as well as decorative art objects.
The Reference Library holds further information on the collections: the online catalogue is available at https://opac.cbl.ie. Access to manuscripts is strictly by appointment. Researchers must apply to the appropriate curator at least one month in advance. Please visit our website for further details.
The Chester Beatty Library website
Texts in Catalogue