University College Dublin Library
by Evelyn Flanagan, Special Collections Librarian
UCD Library Special Collections is located on Level 1 of the James Joyce Library in Belfield. It holds books, pamphlets and journal titles printed before 1851 (in addition to some later titles of particular significance or interest). All the library's manuscripts, as well as some maps, photographs, prints and drawings and ephemera, are also located here, as are a number of important personal collections of significant content or provenance.
The foundation collections are drawn from the libraries of those bodies which ultimately became part of University College Dublin, most notably the Catholic University of Ireland and the Royal College of Science for Ireland. The strengths of the Catholic University library are primarily in philosophy, theology and church history, but there is also significant coverage of Irish literature and the Irish language, history, archaeology and classics. Important individual collections from the Catholic University include those of Archbishops Joseph Dixon (1806–66) and Daniel Murray (1768–1852). The Royal College of Science collection is predominantly 19th century material but does contain some 17th and 18th century material also.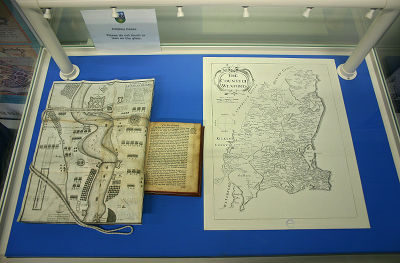 The collections acquired since the establishment of University College Dublin in 1909 include: the Palles Collection (seventeenth and eighteenth century law books); the Tasso Collection deposited by David Nolan; the Power Collection of rare sixteenth–nineteenth century editions concerning Catholic Ireland.
Special Collections also includes a collection of over 1000 pre 16th -18th century theological and historical books from the Order of Friars Minor (Franciscans). Many of these books were originally collected in the College of St Anthony in Louvain. Some of the books were moved from Louvain to St Isidore's in Rome, another Irish Franciscan college, during the unrest of the French Revolution and the Napoleonic wars. Others were transferred to friaries in Ireland, most notably the Franciscan friary in Wexford. This collection was transferred to UCD from the Franciscan House of Studies in Killiney in 2006 under the auspices of the UCD-OFM partnership.
Other material: the Special Collections Department holds the library's first edition (produced between 1833 and 1846) of the Ordnance Survey of Ireland's six inch maps of Ireland, in addition to a selection of other historical Irish maps. There is also a small group of music scores by Sir Arnold Bax and 39 eighteenth century watercolours of Irish antiquities, done by or for Gabriel Beranger.
Texts in Catalogue