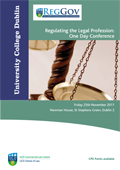 Regulating the Legal Profession

25th November
Regulating the Legal Profession – One Day Conference
Newman House, St. Stephen's Green, Dublin 2
Friday, 25th November, 2011

What is the conference about?
The EU/IMF Programme of Financial Support for Ireland, agreed in December 2010 and revised in July 2011, included commitments on the part of the Government of Ireland '...to introduce legislative changes to remove restrictions to trade and competition in sheltered sectors including: the legal profession, establishing an independent regulator for the profession and implementing the recommendations of the Legal Costs Working Group and outstanding Competition Authority recommendations to reduce legal costs...' (p9).
The Competition Authority published a report in December 2006 on Competition in Professional Services: Solicitors and Barristers. Many of the recommendations directed at the legal professions have already stimulated change from the professions. A Legal Services Regulation Bill was published in October 2011 and has set out the government's thinking on the establishment of a statutory regulator and related reforms.
This conference will locate possible and proposed reforms to the legal profession in Ireland within the wider context of changes to the provision and regulation of legal services internationally. Panels of internationally distinguished specialists in the regulation of the legal profession will be complemented by discussants from various bodies of the stakeholders with interests in the regulation of the legal profession. The objective is to foster an open and well-informed discussion of the paths to reform of regulation of the legal profession in Ireland.
Key Note Address
Professor Lynn Mather, State University of New York at Buffalo.

Lynn Mather is a Professor of Law and Political Science at the University at Buffalo, State University of New York. She was director of the Baldy Center for Law & Social Policy, an endowed academic center for interdisciplinary research on law and legal institutions from 2002-2008. Before moving to UB Law School in 2002, Mather held the Nelson A. Rockefeller Chair in Government at Dartmouth College, Hanover, New Hampshire. While at Dartmouth, Mather served as department chair, acting director of the Rockefeller Center for the Social Sciences and, in 1995, was awarded the Dartmouth College Distinguished Teaching Award.
Who should attend?
This event will be of interest to practising lawyers, judges, academics and policy practitioners with interests in reforms of the legal system.
CPD points will be available for practitioners.
To register your interest please email
deirdre.norris@ucd.ie