New Research Area in UCD School of Biosystems Engineering
Monday, 12 September, 2011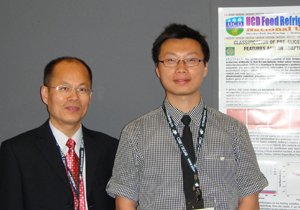 Dr Di Wu (right) and Prof Da-Wen Sun, MRIA, at CIGR Congress in Quebec
New research into the prediction of the quality of salmon fillets from colour, marbling and surface texture features using hyperspectral imaging technique is to be explored in the newly established UCD School of Biosystems Engineering. Ranked as number one among the 46 applications to the IRCSET Assessment Panel in Engineering, this research is funded under the EMPOWER Postdoctoral Scheme.
Salmon production is a very important sector in the Irish aquaculture industry. Irish farmed salmon has earned an international reputation for consistent high quality. Nevertheless, salmon fillet is a very heterogeneous product since the chemical composition, technological and sensory attributes are highly influenced by pre-slaughter (breed, sex, age, weight and environment) and postmortem factors (storage time, temperature). In order to provide premium quality to the market, control procedures should be carried out. Traditionally the quality of salmon fillets is assessed manually based on appearance such as colour and defects, odour and nutritional composition on candling tables, which is a very laborious and expensive process. In this new research, a new technique based on hyperspectral imaging will be developed as a potential tool to provide fast and non-destructive inspection of the quality of salmon fillets for the Irish fish industry.
Starting in September 2011, this research is conducted by Dr Di Wu, Government of Ireland Postdoctoral Fellow, under the mentorship of Professor Da-Wen Sun, UCD School of Biosystems Engineering. Dr Wu received his PhD in Zhejiang University, one of the top universities in China, in July 2011. During his PhD study, he has published 15 peer-reviewed papers in leading international journals and a number of conference papers, in particular, one of his publications, co-authored with Prof Sun, is among the top ten cited articles in 2008-2010 in the Journal of Food Engineering.
IRCSET's EMPOWER Scheme is designed to give researchers at an early stage of their research career the opportunity to build upon and broaden their research and professional skills, contributing them to established leading research teams in Ireland. This year, IRCSET's EMPOWER Scheme awarded 6 projects in Engineering.