UCD Researcher awarded prestigious European Research Council funding for safe drinking water research
Wednesday, 07 September, 2011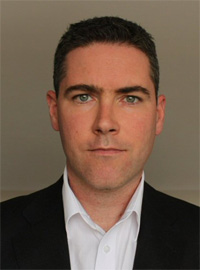 Dr Eoin Casey BE PhD
Dr Eoin Casey (UCD School of Chemical and Bioprocess Engineering) has been awarded a Starting Grant of €1.5m from the European Research Council (ERC), funded under the EU Framework Programme 7, to undertake groundbreaking research into emerging technologies for improving drinking water quality.
Water quality is threatened by a growing number of contaminants entering water supplies as a result of human activity, including medicines, veterinary drugs, fragrances and cosmetics.
"There is a strong societal need to anticipate threats to the environment that may impact on public health. Consequently there is a need to develop, understand and optimise environmental technologies that will play an important role in protecting the public from future environmental threats", said Dr Casey, who will lead and direct the research programme.
He continued, "A major challenge in water treatment is to improve existing processes and to design new ones to remove a large number of chemically very different contaminants. These contaminants are an emerging threat and membrane separation processes are an important technology in their management. However, biofouling is a key impediment and the tenacious nature of biofilms is at the core of the problem."
This five-year programme will investigate the role of biofilms in the fouling of nanofiltration membranes and develop strategies to enhance their removal. The results of the project will advance the understanding of important mechanisms in biofouling development and consequently increase the effectiveness and reliability of nanofiltration design and operation. Ultimately this will have wider implications for the effective treatment of water treatment processes and biofouling control in general.
Previous work on nanofiltration biofouling has highlighted the complexity of the microenvironment in which the biofilm is formed. The challenge of this project is to devise an approach that recognises that multiple overlapping mechanisms contribute to biofilm formation.
A multidisciplinary team will be formed to tackle the problem using a range of state-of-the-art experimental techniques and underpinned by the use of mathematical modelling. It will involve approaches that bring together researchers from different disciplinary backgrounds, with different conceptual approaches, techniques, methodologies and instrumentation. In particular the team members will draw from the disciplines of material science, microbiology, chemical and bioprocess engineering.
Dr Peter Clifford, Science Foundation Ireland, National Delegate to the ERC Programme Committee said: "SFI congratulates Dr Casey on being awarded a prestigious ERC Starting Grant. The ERC funds only the highest level European researchers; the large research awards are crucial to growing the research excellence of UCD and Ireland. SFI is pleased to have supported, through the Research Frontiers Programme, the previous research which led to this project. We wish Dr Casey every success with the project."
European Research Council Starting Independent Researcher Grants (ERC Starting Grants) aim to support promising research leaders who are about to establish or consolidate a research team and start conducting independent research in Europe. 2010 has proven Ireland's most successful year to date with UCD holding four Starting Grants, and Prof James Heckman holding an ERC Advanced Grant.