Ireland's EU Commissioner Máire Geoghegan Quinn visits researchers at UCD
Tuesday, 04 December, 2012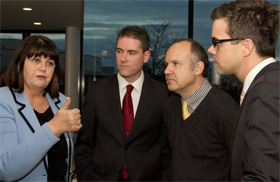 EU Commissioner Máire Geoghegan-Quinn meets some of UCD's ERC awardees (l-r): Prof Eoin Casey, School of Chemical & Bioprocess Engineering; Prof Frédéric Dias, UCD School of Mathematical Sciences; Prof Robert Gerwarth, UCD School of History & Archives and Director, UCD Centre for War Studies.
"When companies and universities work well together, they become a powerful engine for innovation and economic growth." That was a key message delivered at UCD last week by Ireland's EU Commissioner Máire Geoghegan Quinn. Speaking at UCD Conway Institute of Biomolecular and Biomedical Research, Commissioner Geoghegan Quinn spoke about the ambitions of Horizon 2020, the new strategy for research and innovation in Europe. She also spoke about the European Research Area and its proposed aims to encourage greater mobility and collaboration between academia and industry in the region.
"Universities should make participating in knowledge transfer a valued part of an academic career," she said. "Academic staff should be trained to develop entrepreneurial skills that can be transferred from one work environment to another."
Commissioner Geoghegan Quinn congratulated UCD on becoming the first Irish university to be awarded the "HR Excellence in Research" logo, which recognises the university's work in implementing the European Charter for Researchers and the Code of Conduct for the recruitment of researchers. "This identifies UCD as a provider and supporter of a stimulating and favourable working environment for researchers," she said. "The award is proof that it is possible to support researchers in the current economic times."
UCD has also seen considerable success in hosting European Research Council awards. The ERC funds fundamental or 'blue-sky' research, and grants are highly competitive and are funded on the basis of excellence. With a total of eight awardees - some of whom were present at the Commissioner's address - UCD ranks among the top 90 institutions in Europe for ERC grants.
Commissioner Geoghegan Quinn encouraged active participation in building more and stronger partnerships between business and academia and in communicating that research and innovation pays off for growth, competitiveness and jobs. "Research and innovation need more champions," she said.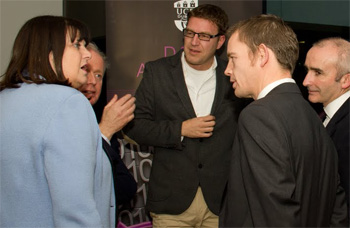 EU Commissioner Máire Geoghegan-Quinn pictured with (l-r): Prof Des Fitzgerald, VP for Research, UCD; Prof Barry Smyth, UCD School of Computer Science & Informatics and Director of CLARITY; Dr Brian Caulfield, UCD School of Pulbic Health, Physiotherapy & Population Science and Director of TRIL; Prof Pádraig Cunningham, School of Computer Science & Informatics and Director of Clique.
Some of those champions from UCD were recognised recently at separate events: last week Professor Dolores O'Riordan, Deputy Director of UCD Institute of Food and Health, received Enterprise Ireland's 2012 Lifescience Commercialisation Award. Minister for Research and Innovation Seán Sherlock made the presentation at the Enterprise Ireland Big Ideas Showcase at the Aviva Stadium in Dublin. The award acknowledges Professor O'Riordan's collaboration with industry, particularly in the development of healthy snack foods and the identification of functional ingredients in milk.
Last month also so genomics scientist Dr Emmeline Hill from the UCD School of Agriculture and Food Science named the Irish Tatler 2012 Woman Entrepreneur of the Year. Dr Hill co-founded the UCD spin-out company Equinome based on Science Foundation Ireland-funded research that identified a gene to predict sprinting ability and stamina potential in Thoroughbred horses. Dr Hill established Equinome in 2009 to commercialise the results of this research, through the Equinome Speed Gene Test, in partnership with the renowned racehorse trainer and breeder Jim Bolger. The company has already secured clients around the world including in the USA, Australia, New Zealand, Ireland, UK, France, Hong Kong and Singapore.
Also in November, Professor Barry Smyth, who holds the Digital Chair of Computer Science in UCD's School of Computer Science and Informatics, received the Irish Software Association's 2012 Outstanding Academic Achievement of the Year Award. Professor Smyth has published in excess of 400 research papers and in recent years has secured in excess of €15 million in research funding from a variety of Irish, European, and US funding agencies.
Professor Smyth is also a serial entrepreneur - he was a co-founder of the UCD spin-out company ChangingWorlds Ltd., a leading provider of mobile content discovery solutions, which was acquired by Amdocs Inc in 2008 for in excess of $60 million. And he is co-founder of another UCD spin-out HeyStaks, the social web-search start-up that he established with Dr Maurice Coyle and Dr Peter Briggs in 2008. HeyStaks is based at NovaUCD, the Centre for New Ventures and Entrepreneurs at University College Dublin.