Professor Da-Wen Sun Elected Fellow of IAFoST
Thursday, 10 May, 2012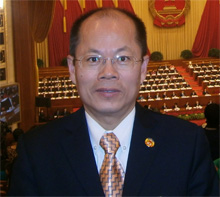 Da-Wen Sun, Professor of Food and Biosystems Engineering from UCD School of Biosystems Engineering was recently elected a Fellow of the International Academy of Food Science & Technology (IAFoST) in recognition of the significant contribution he is making in this field. Among the 22 newly elected Fellows from around the world, Professor Sun is the only one elected this year from Ireland.
"This is a great honour, both personally and also for UCD. It is an international recognition which reflects the outstanding reputation of UCD research in food science and technology", said Professor Sun.
Professor Sun is a leading world authority on food engineering research and education; his many scholarly works have become standard reference materials for researchers in the areas of computer vision, computational fluid dynamics modelling and vacuum cooling. He has published over 250 peer-reviewed papers (h-index=36) in high impact international journals and has edited 13 authoritative books. Thomson Reuters ranks him among the top 1% of the most cited authors in Agriculture Sciences.
IAFoST, established in 1997, is a group of elected distinguished food scientists and technologists who collectively form a pool of scientific expertise from which the International Union of Food Science and Technology (IUFoST) draws non-aligned expert advice on scientific matters.