Winners of UCD Research Images Competition 2011 are announced
Thursday, 16 February, 2012
'Makes you think!'. Image by Dr Ian Reid, School of Chemical & Bioprocess Engineering.
Dr Ian Reid, in the UCD School of Chemical & Bioprocess Engineering was announced as the overall winner of the 2011 UCD Images of Research competition at a prize giving event in UCD Research on 16 February. The winning image, entitled 'Makes you Think!' is a scanning electron microscopy image of a piece of brain after removing cylindrical samples from the white matter. The research project behind the image, involves modelling and simulation of traumatic brain injury due to blunt head impacts. (Image Collaborator Badar Rashid).
Dr Sebastien Puechmaille, UCD School of Biology & Environmental Science, was awarded second place for his photographic image 'Looking for SARS' which was taken in a cave used by Buddhist monks in Western Thailand. This picture shows Dr Peuchmaille and his collaborator setting up the equipment to screen bats for the presence of SARS-Coronaviruses (Severe Acute Respiratory Syndrome). The research behind this image has shown that SARS-Coronaviruses are present in more species than previously reported and that the virus can persist in the same colony over years. The results suggest that bats are resistant to SARS-Coronaviruses and studying their resistance will help to develop remedies against the virus, which can be fatal for humans.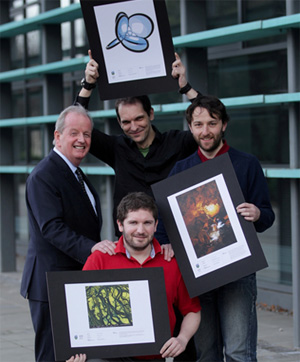 Pictured Prof Des Fitzgerald, VP for Research UCD with winners of the 2011 Research Images Competition, Dr Ian Reid (Overall Winner), Dr Sebastien Peuchmaille (2nd Place) and Dr Miguel Nicolau (3rd Place)
Third place was awarded to Dr Miguel Nicolau, UCD School of Computer Science & Informatics and UCD CASL for his image entitled 'Digital Organic'. Evolutionary Computation is a research field that uses computers to breed solutions, using principles taken from natural evolution. Such algorithms can be used in an interactive manner, allowing the human user to evaluate the goodness of those solutions. This image was generated when such a system was used to evolve logos, based on projections of mathematical structures. The image was evolved for a logo competition at the CASL laboratory in UCD, which it won.
Now in its sixth year, the UCD Research Images Competition has generated a unique collection of over 1,500 research images from across all Schools and Research Institutes in UCD. This year, over 100 images were submitted to the Competition, from 25 Schools and 10 Research Institutes and Major Programmes. Continuing to prove a very popular initiative with PhD students, over 50% of entries to the competition this year were submitted by UCD postgraduate students. Postdoctoral Fellows accounted for almost one sixth of the submissions.
The 32 winning and shortlisted images are now available in a digital exhibition on the UCD Research website: www.ucd.ie/research/images. In addition to providing a highly visual viewing experience, this exhibition provides further information on the research that is behind each of the images.