'VOICES ON JOYCE' edited by Anne Fogarty and Fran O'Rourke was recently launched by UCD Press in Newman House
Tuesday, 16 June, 2015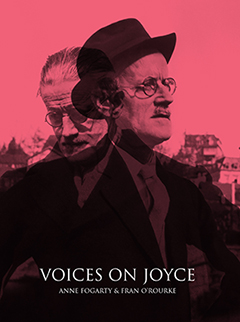 Voices on Joyce gathers together interpretations of Joyce's work by leading experts in a wide span of disciplines including history, literature, philosophy, geography, modern languages, economics, theatre studies and law. The 20 essays in this collection confirm the openness and pluralism of Joyce's writing, and underline the advantage of reading his work from a large variety of diverging perspectives. Joyce's relationship with key historical, intellectual and cultural issues in the early twentieth century are explored, including: the growth of Dublin as a city, the advance of Irish separatist nationalism, the Irish Literary Revival, and the history and social import of Jewish communities and traditions.
No Irish writer casts a shadow as broad, deep and long as James Joyce. His work penetrates so many aspects of Irish cultural life of all kinds to this day. It is this breadth and reach that are the heart of his appeal and importance – Voices on Joyce spans the variety and extent of Joyce's work and times to present a survey touching on everything from music to theatre, sport to crime and all points in between. Joyce as cultural capital and his influence on contemporary art are also discussed. Beautifully illustrated throughout with images from modernist and photojournalist Lee Miller, this handsome hardback book presents a telling overview of Joyce's Dublin and work. Launched to coincide with Bloomsday 2015, the book is on sale
The wide ranging voices in this collection provide a broad and knowledgeable survey of Joyce's time, place and work, and constitute a unique reckoning with his legacy. Miller's photographs further provide vivid images of Joycean locations and of their artistic reimagining. The portrait of the artist that emerges from Voices on Joyce confirms him as a writer particularly embedded in Irish intellectual discourse, whose importance persists in social and cultural debate in Ireland as elsewhere.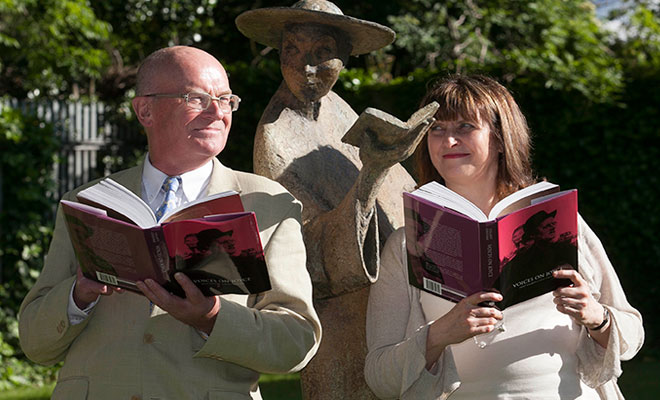 About the editors:
ANNE FOGARTY is the Director of the Dublin James Joyce Summer School and co?editor with Luca Crispi of the Dublin James Joyce Journal. She is co?editor with Timothy Martin of Joyce on the Threshold, with Morris Beja of Bloomsday 100: Essays on Ulysses and has published widely on Joyce and Yeats and on gender and genre in twentieth?century Irish writing.
FRAN O'ROURKE is Associate Professor in the School of Philosophy, UCD. He is a former Director of the UCD International Summer School in Irish Studies, has lectured widely both on philosophical influences in James Joyce and on Joyce's use of Irish traditional song, and is the author of Allwisest Stagyrite: Joyce's Quotations from Aristotle.
The book received a full page in The Irish Times over the weekend which included an extract from the book and a review which highlighted the book's origins in UCD and the important connection between Joyce and UCD (http://www.irishtimes.com/culture/books/voices-on-joyce-a-showcase-of-irish-takes-on-james-joyce-1.2247449).