University College Dublin Welcomes Publication of Innovation 2020 Strategy
Monday, 14 December, 2015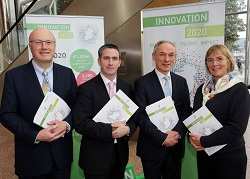 Professor Mark Ferguson, Director-General, Science Foundation Ireland; Minister Damien English TD; Minister Richard Bruton TD and Julie Sinnamon, CEO, Enterprise Ireland.
The Minister for Skills, Research, Innovation Damien English TD, together with An Taoiseach Enda Kenny TD and Minister for Jobs, Enterprise and Innovation, Richard Bruton TD, recently published Innovation 2020, Ireland's 5-year strategy for research and development, science and technology.
This innovation plan is a key element of the Government's overall jobs strategy, Enterprise 2025, aimed at building a new economy based on exports and enterprise, and delivering full employment on a sustainable basis.
The strategy is aimed at building on the significant successes delivered by the Government's science strategy over the past decade, which has seen Ireland dramatically improve its performance globally in this area.
The next phase of the strategy is aimed at building on existing infrastructures and achieving ambitious private-public collaborations.
A key ambition of the strategy is to increase total investment in R&D in Ireland, led by the private sector, to 2.5% of GNP.
On current official projections, this would mean that over €5 billion will be invested per year in R&D by the private and public sectors by 2020. This will represent almost doubling current levels of investment, €2.9 billion in 2014.
An Taoiseach, Enda Kenny TD said, "Innovation 2020 is a key element in our plan to keep the recovery going by helping to create new jobs and new opportunities for research. It sets out a vision in which Ireland would become a Global Innovation Leader, with research, development, science and technology all contributing to this goal. Our reputation for research excellence has been a major catalyst in our success in attracting and maintaining foreign direct investment, and this Strategy demonstrates that we remain strongly committed to maintaining and improving standards in the excellence of our research."
Launching the report, Minister for Skills, Research and Innovation, Damien English TD said, "Developing the talent of our population is an underlying aim of Innovation 2020 and will be critical to the successful realisation of our national vision, of Ireland as an innovation leader. Our success in delivering on our vision will depend on our people - undertaking the research, working in and creating successful enterprises, and contributing to the society in which we live. We will support talent development from primary level through to Postdoctoral research and from frontier research across all disciplines to practical application. We will support the successful deployment of that talent and research in driving innovation in enterprises and public services."
Welcoming the publication of the Innovation 2020 strategy Professor Orla Feely, Chair, IUA Research Vice-Presidents Group and UCD Vice-President for Research, Innovation and Impact said, "I welcome the publication of the strategy today. It sets out a strong ambition for Ireland as a leader in innovation, underpinned by the excellence, talent and impact of Irish research. The commitment to increasing public and private investment in research is particularly welcome."
She added, "The success of the strategy will rely on higher education and enterprise mobilising around it in an agile and co-ordinated manner, in tandem with government and its agencies. The universities look forward to working with all of those involved as we seek to build on our success to date and deliver excellent research and innovation with impact nationally and globally."
She concluded, "The national enterprise themes as set out in the strategy align very well with UCD's major research themes. We have been mobilising around these themes, building scale and structure internally and partnerships externally, and we look forward to contributing to and playing a leadership role in national activities under the new strategy."
The Minister for Jobs, Enterprise and Innovation, Richard Bruton TD said, "At the heart of our overall jobs strategy is rebuilding a sustainable economy based on enterprise, exports and innovation, to replace the failed economy based on debt and property that was built up during the last decade. A key part of this is improving our performance in innovation. In recent years we have built up a base of performance in innovation that has brought us into the top 10 of the international rankings – the aim now is to improve on this, and truly make Ireland a global leader in this area. This strategy sets out a range of ambitious actions for delivering on this, and under the leadership of Minister Damien English I am confident that we can deliver on this – with massive impact on our ability to grow the economy and create the jobs we need."
Professor Mark Ferguson, Chief Scientific Adviser to the Government of Ireland, said, "I welcome the new strategy Innovation 2020 which highlights the importance of scientific research and innovation to all aspects of Ireland's future and which confirms the Government's commitment to increase both public and private investment in this area. Innovation 2020 builds on the considerable past successes and outlines some ambitious new plans such as challenge based funding. Science, innovation and technology are driving rapid global changes and the world is becoming more competitive. Ireland needs to continue to push forward: be the creators and owners of new ideas and innovations, upskill our people, strengthen and future proof our economy and society. Implementation of Innovation 2020 will allow us to do that: excellence, talent and impact."