UCD and TCD win Knowledge Transfer Ireland 2017 Impact Award
Tuesday, 04 April, 2017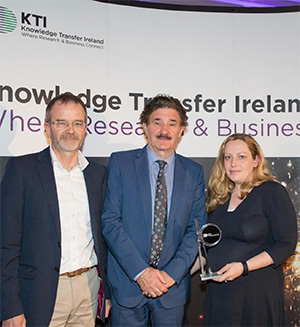 Pictured (l-r): Brendan Cremen, UCD Director of Enterprise and Commercialisation, Minister John Halligan TD and Fionnuala Healy, Start-up Development Manager, TCD.
UCD has been awarded the Knowledge Transfer Initiative of the Year Award, jointly with Trinity College Dublin, in recognition of the establishment and launch of the Atlantic Bridge €60 million University Bridge Fund.
The annual KTI Impact Awards, which were held at an event in the Royal Hospital Kilmainham, Dublin, showcase and celebrate successes in knowledge transfer carried out in Irish publicly funded research organisations in the previous year. The Awards recognise and commend some of the top performances in the areas of collaborative research, consultancy, licensing and the development of spin-out companies.
Minister John Halligan TD, who opened the Awards ceremony said, "KTI manages and administers the €34.5m Technology Transfer Strengthening Initiative on behalf of Enterprise Ireland which sustains the capacity within our Higher Education Institutes to license technologies, create spinout companies and to engage with enterprise. This all leads to innovation, competitiveness and ultimately jobs."
Director of KTI Dr Alison Campbell said, "The Impact Awards are about acknowledging Ireland's success in knowledge transfer and the people that make it happen, the on-the-ground staff in technology transfer offices and industry liaison offices in our HEIs around the country. Recent results from Enterprise Ireland's client survey show that companies that collaborate with the Irish Research system on market-led projects have more than double the sales and exports than those that don't. The knowledge transfer profession plays an essential role in helping companies (existing and new) to innovate through the commercialisation of research and expertise."
The Knowledge Transfer Initiative of the Year Award recognises a commitment to the continuous development within a TTO or ILO.
The University Bridge Fund, launched in 2016, was initiated in a joint leadership collaboration between UCD and Trinity. It was established to invest in early-stage companies, with global potential, that are built from world-class research outputs generated at UCD, Trinity and at all Irish third-level institutions and universities.
The Fund, which is managed by Atlantic Bridge Capital, provides capital and expertise to scale such companies into global markets. This Fund brings together significant institutional investment from the European Investment Fund, Enterprise Ireland, AIB, Bank of Ireland, UCD and Trinity.
Brendan Cremen, UCD Director of Enterprise and Commercialisation said, "I am delighted that UCD and Trinity jointly won the Knowledge Transfer Initiative of the Year Award, for the establishment and launch of the Atlantic Bridge €60 million University Bridge Fund. The successful launch of this Fund, initiated in a joint leadership collaboration by both universities over a 3 year period, clearly demonstrates how UCD and Trinity have become proactive leaders and drivers of the Irish entrepreneurship eco-system."