UCD PhD Student on Cloud9 After Winning Commercialisation Award
Wednesday, 17 May, 2017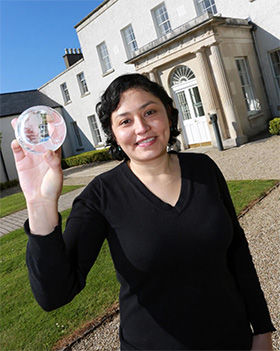 Pictured at NovaUCD is UCD PhD student Vanessa Ayala-Rivera, founder, Cloud9, overall winner of the 2017 UCD School of Computer Science Innovation Sprint Programme.
Cloud9, an early-stage big data venture, has won a University College Dublin (UCD) commercialisation award. Cloud9 is developing a new software service to enable organisations to effectively and efficiently desensitise personal data in-house before uploading it securely to the cloud for processing.
The founder of Cloud9 is Vanessa Ayala-Rivera, a PhD student in the Performance Engineering Laboratory at UCD's School of Computer Science, working under the supervision of Professor Liam Murphy. She is also a UCD member of Lero, the Irish Software Research Centre.
At a time when data is a critical asset for many organisations, and the adoption of data processing services in the cloud has increased, compliance with data privacy and protection legislation have become key concerns. Companies are therefore wary of losing control over their data by placing it on platforms that they do not manage.
The Cloud9 solution is a high-performance anonymization engine which allows companies and organisations to desensitise personal data in-house, by applying diverse data obfuscation and anonymization techniques, thereby protecting the data, before uploading it to the cloud for processing.
In addition, the Cloud9 solution is aiming to automate the identification of sensitive information, based on self-learning algorithms, that discover new data patterns on-the-fly, to facilitate the automatic configuration of privacy policies.
Cloud9 was the overall winner of the 2017 UCD School of Computer Science Innovation Sprint Programme, a 1-day initiative designed and delivered by UCD's technology transfer and enterprise development teams at NovaUCD.
Each 1-day innovation sprint programme aims to encourage the development of commercial outputs, arising from specific research areas or Schools, by engaging with UCD researchers at an earlier stage in the commercialisation process.
Speaking at NovaUCD, Vanessa Ayala-Rivera, who is originally from Mexico, said, "Through the outputs of my research at UCD I am developing a tool to enable companies and organisations to implement a software service to protect critical information in-house, in compliance with data protection legislation, before they upload it to the cloud."
Vanessa Ayala-Rivera's research at UCD has been supported by Science Foundation Ireland and co-funded under the European Regional Development Fund through the Southern and Eastern Regional Operational Programme to Lero.
Over 45 researchers with over 35 business ideas have taken part in the nine 1-day Innovation Sprint Programmes delivered to date at UCD. The other programmes have focused on business opportunities arising from research taking place in areas such as: Agri-Food; CleanWeb; Data Science; Engineering; ICT; IoT, Life Science and MedTech.