The Augmented Human: Using AI to Run Your Best Marathon
Wednesday, 28 June, 2017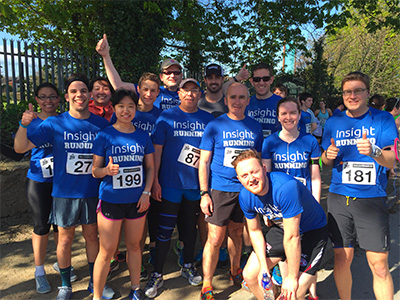 The picture shows Barry and Padraig putting their research into practice at the UCD 5 Km Rás with their Insight colleagues!
This week Profs. Barry Smyth and Padraig Cunningham received the Best Paper award at the 25th International Conference on Case-Based Reasoning for work entitled, "Running with Cases: A CBR Approach to Running Your best Marathon"
The research fits within Insight UCD's Augmented Human project, which explores the many ways that the combination of Data Analytics and Machine Learning can help to amplify human intelligence and enhance human performance.
In this particular work Barry and Padraig look at how the machine learning technique, case-based reasoning, can help recreational athletes to better predict a suitable finish-time goal and pacing-plan for an upcoming marathon, ensuring that the reach their full potential but without the risk of hitting the wall.
The work represents just one way that machine learning will support how we exercise in the future. Unlike the current generation of fitness apps (Strava, RunKeeper, MapMyRun), which focus on recording and reporting our exercise activity, the next generation of these apps with become smarter and more personalised. They will use artificial intelligence techniques to make personalised predictions ,and provide tailored advice, about how we might adapt our training to suit our lifestyle and ability, helping us all to achieve our goals, avoid injury, and enjoy our exercise.