Senior Lecturer, UCD School Of Biology & Environmental Science
Interim Director, UCD Earth Institute
Crops of the future - less disease, more yield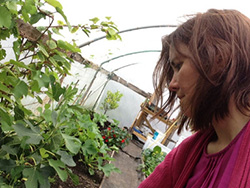 As humans we depend heavily on plants for food and fuel. That means anything which threatens the health of crop plants - such as disease or climate change - can also threaten food and energy security.
Dr Fiona Doohan is researching environmentally friendly and sustainable ways to boost the adaptability of crops to stresses, and she has a particular expertise in plant-microbe interactions.
Wheat is an important focus of her research, and Dr Doohan has identified several key genes and proteins involved in the crop's defence against disease and cold tolerance. She is also working with Teagasc to develop technologies for genetic modification.
Economically important trees are also under threat from disease, and Dr Doohan is working with the Agri-Food and Biosciences Institute to explore how larch, oak and ash respond to microbial attackers.
On the flip side, Dr Doohan is exploring how we can use some microbes themselves as plant defenders, and particularly how the bacterium Pseudomonas could be sprayed on wheat and barley crops to help ward off other, disease-causing microbes as the plants grow.
Microbes may also be able to help us extract more value from crops too - Dr Doohan's research is finding that treating low-value or 'waste' plant material with Fusarium oxysporum could yield higher-value products such as bioethanol, and she is highlighting how breeding programmes could enhance 'multi-functional' crops.
Dr Doohan's work is funded through the Department of Agriculture, Food and the Marine, Enterprise Ireland the European Union's Framework 7 Programme and Science Foundation Ireland.