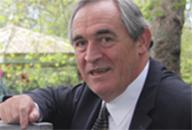 Under the umbrella of the UCD Institute of Food and Health, Prof Mike Gibney has consolidated the seven academic pillars of food safety, primary production, regulation, nutrition, food science, biosystems and consumer issues. The Institute's current research focus is in the areas of: analysing food intake in Ireland, understanding how consumers perceive food risk, teasing out the interactions between food and genes, developing functional foods for the future and collaborating with the UCD Earth Systems Institute to log the carbon footprint of the Irish diet.
Prof Gibney's laboratory-based research is focused on the application of metabolomics technology to human nutrition. Metabolomics is the study of the unique chemical fingerprints that specific cellular processes leave behind. As a member of the Governing Council and the Network Board of the European Nutrigenomics Organisation (NuGo), he is responsible for the development of metabolomics within NuGo. He is also coordinator of the Joint Irish Nutrigenomics Organisation, a major national project which is establishing the national nutrition phenotype database.
Prof Gibney has a major research interest in diet, lipids and the metabolic syndrome and is coordinator of Lipgene, a major EU project. He is also coordinator of the FACET (Flavourings, Additives and food Contact materials Exposure Task) project which involves 20 EU partners.
Professor Gibney is active in the area of public health nutrition research which is centred around several national food consumption surveys and their use for the development of evidence-based dietary guidelines in partnership with the Irish Universities Nutrition Alliance. He also uses this survey data to model the risk of exposure to food borne chemicals.