Chair of Creative Technology Innovation and Professor of Inclusive Design for Education at University College Dublin, Founder/Director of SMARTlab
Executive of the Innovation Academy
Academic Chair of the Doctrid Research Centre's AssistID All-Ireland Project
Chair of the Royal Irish Academy's Social Science Committee
Smart technology = Access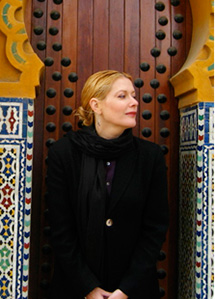 When technology is used in a smart way, it can allow people with disabilities to communicate, open up education for people with different learning styles, levels of ability, cultures and languages, and can even encourage people to take control of their health.
Prof Lizbeth Goodman is an expert on digital inclusion and lifelong learning. Her work focuses on open-tech innovation as catalyst for inclusion and positive social change.
She is Principal Investigator (PI) of the SMART-LIFElab Project with the National Children's Research Centre, using open source tools to help address childhood obesity and diabetes, exploring how children focus on their bodies and health when exercising in tandem with the use of biosensors in virtual worlds. And she is co-PI of the SMARThealthbook project for UCD's Connected Health research priority area.
Open-source tools are also the focus of another of Prof Goodman's projects - the Leonardo Project on Alternative E-Access, which is launching personalisable, open-source software that enables people with different languages and levels of intellectual and physical ability to access online resources and courses at scale, to take part fully in the massive open online course (or MOOC) 'revolution.'
With the CLARITY Centre, Goodman co-PIs the Learnovate I-Learn Project: developing recommender systems wherein online communities quickly connect with each other and with relevant content using immersive technologies.
She has published 13 books and has received many industry and international awards including 'Best Woman in Academia and the Public Sector', and 'Best Woman in Technology'. She is currently working on a Roadmap