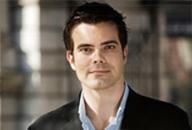 Professor Robert Gerwarth, UCD School of History & Archives, is the founding director of the UCD Centre for War Studies.
Professor Gerwarth's research is focused on the history of Germany and Central-Europe in the period between 1871 and 1945. He is particularly interested in the history of memory and the history of violence. Professor Gerwarth is a Member of the Royal Irish Academy and a Fellow of the Royal Historical Society.
In 2009 Professor Gerwarth was awarded a European Research Council grant of €1.2M for a ground-breaking 4-year project on the transnational history of failed demobilization and paramilitary violence from Ireland through Europe and across the wider world after the Russian revolution and the end of the Great War. The grant will boost research activity at Professor Gerwarth's Centre for War Studies at UCD and intensify collaboration with national and international partner institutions. This is the first time that such an award has been made to a humanities scholar in Ireland. It is also the largest EU research grant ever made for a humanities project in Ireland. Professor Gerwarth has also received grants from the Irish Research Council and the Harry Frank Guggenheim Foundation in New York.
Professor Gerwarth is the author of The Bismarck Myth (Oxford University Press, 2006) and Hitler's Hangman: The Life and Death of Reinhard Heydrich (Yale University Press, 2011) which has been translated into several languages. He is also the editor of War in Peace: Paramilitary Violence in Europe after the Great War (OUP, 2012); Political Violence in Twentieth-Century Europe (CUP, 2010); Twisted Paths: Europe 1914-1945 (OUP, 2007); Wilhelmine Germany and Edwardian Britain (OUP, 2008) and of special journal issues on the history of terrorism, violent constitutional collapse, and collective memory. He is currently writing a history of the German November Revolution for Oxford University Press and a book on the aftermath of the Great War for Penguin.