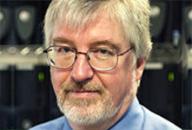 A Chemical Engineering graduate and PhD-holder from UCD, Professor Don MacElroy is Professor of Chemical Engineering and Head of the UCD School of Chemical and Bioprocess Engineering.
Professor MacElroy's primary research interests include fundamental and applied aspects of solar energy conversion and energy storage and the related field of CO2 capture.
Much of his work on these topics has been supported over the last 5-10 years by funding from Science Foundation Ireland programmes (including the Strategic Research Cluster (SRC) in Advanced Biomimetic Materials for Solar Energy Conversion of which Professor MacElroy is Director), the EU Framework and additional leveraged funding from a variety of sources totalling over €18M.
The principal theme underpinning this work is the need to reduce or eliminate society's dependence on fossil fuels through development and implementation of concepts in or relating to artificial photosynthesis. Partnerships and alliances now exist with many Institutions in Europe and North America.
As well as being Head of School and having teaching responsibilities, Professor MacElroy regularly sits on peer-review panels for funding agencies and journals.
Related links
Prof Don MacElroy – Full Biography which includes a complete list of his research publications