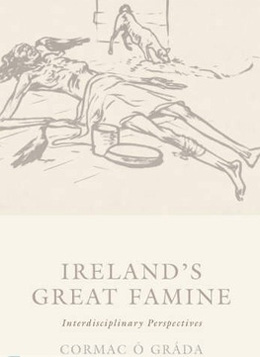 "Ireland's Great Famine: Interdisciplinary Essays". Image by Mr. Cormac O'Grada.
UCD School of Economics
UCD School of Economics - Research Publications 2011/12
Below is the list of research publications for the UCD School of Economics in the academic year 2011/12

Click here to download as a PDF (101 kbs)
Dr Ivan Pastine
Mcdowell, M., Thom, R., Pastine, I., Frank, R., and Bernanke, B.; (2012) Principles of Economics, Third European Edition. UK: McGraw-Hill.
Professor Aisling Reynolds-Feighan
Reynolds-Feighan, A.J. ; (2011) 'Comparative Analysis of Air Freight Networks in Regional Markets around the world' In: James H. Bookbinder (eds). Global Logistics. Philadelphia: Springer-verlag Gmbh.
Reynolds-Feighan, A.J. & R.W. Vickerman; (2011) 'Transportation Economics for Planners in the 21st Twenty-First Century' In: Nancy Brooks, Kieran Donaghy and Gerrit-Jan Knaap (eds). The Oxford Handbook of Urban Economics and Planning. Oxford: Oxford University Press.

Back to Top

Peer Reviewed Journals
Professor Ronald Davies
Svetlana Batrakova and Ronald B. Davies (2012) 'Is there an environmental benefit to being an exporter? Evidence from firm-level data'. Review of World Economy (Weltwirtschaftliches Arkiv) .
Davies, R. B. and Lourenco, P. S.; (2011) 'Tariffs versus VAT in the presence of heterogeneous firms and an informal sector'. International Tax and Public Finance .
Professor Paul Devereux
Devereux, PJ; Fan W. (2011) 'Earnings Returns to the British Education Expansion'. Economics of Education Review, 30 (6):1153-1166.
Dr Orla Doyle
Doyle O, McEntee L, McNamara K; (2012) 'Skills, Capabilities and Inequality at School Entry in a Disadvantaged Community'. European Journal of Psychology of Education, 27 :133-154.
Delaney L. & Doyle O; (2012) 'Early Childhood Determinants of Time Preferences'. Journal of Economic Psychology, 33 :237-247.
Doyle, O (2012) 'Breaking the Cycle of Deprivation: An Experimental Evaluation of an Early Childhood Intervention'. Journal of the Statistical and Social Inquiry Society of Ireland .
Doyle O, Finnegan S, McNamara K; (2012) 'Differential Teacher and Parent Ratings of School Readiness in a Disadvantaged Community'. .
Dr Stefanie Haller
Haller, S.A.; Murphy, Liam (2012) 'Corporate expenditure on environmental protection'. Environmental and Resource Economics, 51 (2):277-296.
Dr Christopher Jepsen
Jepsen, C; Montgomery, M (2012) 'Back to School: An Application of Human Capital Theory for Mature Workers'. Economics of Education Review, 31 (1):168-178.
Dr Kanika Kapur
?C?leachair A, Costello L, Finn C, Timmons A, Staines A, Fitzpatrick P, Kapur K, Sharp L. (2012) 'Inter-relationships between the economic and emotional consequences of colorectal cancer for patients and their families: a qualitative study'. Gastroenterology, 12 .
Dr Ivan Pastine
Pastine, I., Pastine, T. (2012) 'Incumbency Advantage and Political Campaign Spending Limits'. Journal of Public Economics, 96 :20-32.
Pastine, I. and Pastine, T.; (2012) 'Student Incentives and Preferential Treatment in College Admisssions'. Economics of Education Review, 31 :123-130.
Dr Frank Walsh
Frank Walsh; (2012) 'Efficiency Wages and Bargaining'. Oxford Economic Papers .
Professor Karl Whelan
Antonello D'Agostino, Kieran McQuinn and Karl Whelan (2012) 'Are Some Forecasters Really Better Than Others?'. Journal of Money, Credit and Banking, 44 (4):715-732.
Dr Orla Doyle
Doyle, O & UCD Geary Institute PFL Evaluation Team (2012) Preparing for Life Early Childhood Intervention Assessing the Early Impact of Preparing for Life at Six Months. UCD Geary Institute, UCD Geary Institute.