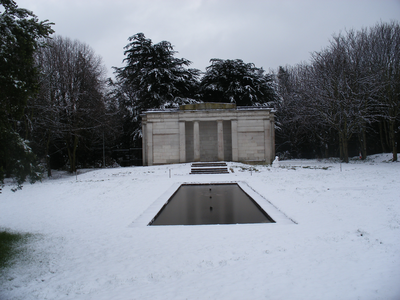 'Magnetic Observatory, UCD in winter'. Image by Ms Serena Dool.
UCD School of Economics
UCD School of Economics - Research Publications 2014/15
Below is the list of research publications for the UCD School of Economics in the academic year 2014/15.

Click here to download as a PDF (33 kbs)
Professor Cormac Ó Gráda
Cormac O Grada (2015) Eating People is Wrong: Essays on the History and Future of Famines. Princeton, NJ: Princeton University Press.
Professor Cormac Ó Gráda
Cormac O Grada (2015) 'Neither feast nor famine: England before the Industrial Revolution' In: Avner Greif, Lynne Kiesling, and John Nye (eds). Institutions, Innovation and Industrialization. Princeton NJ: Princeton UP. , pp.1-31
Ní Úrdail, M., Ó Gráda, C. (2015) ''Tadhg Ó Neachtain agus Muiris Ó Conaill ag trácht ar bhlianta an áir, 1739-42'' In: Niall Ó Cíosáin, John Cunningham (eds). Culture and society in Ireland since 1750: essays in honour of Gearóid Ó Tuathaigh. Dublin: Lilliput. , pp.33-43

Back to Top

Peer Reviewed Journals
Professor Ronald Davies
Davies, R.B. and Jeppesen, T. (2015) 'Export mode, firm heterogeneity, and source country characteristics'. Review of World Economics .
Ronald B. Davies and Rodolphe Desbordes (2015) 'Greenfield FDI and Skill Upgrading: A Polarized Issue'. Canadian Journal of Economics / Revue Canadienne d'Économique .
Professor Paul Devereux
Black, Sandra E.; Devereux, Paul J.; Salvanes, Kjell G. (2015) 'Losing Heart? The Effect of Job Displacement on Health'. Industrial and Labor Relations Review .
Black, Sandra E.; Devereux, Paul J.; Loken, Katrine; Salvanes, Kjell G. (2014) 'Care or Cash? The Effect of Child Care Subsidies on Student Performance'. Review of Economics and Statistics .
Dr Orla Doyle
Lisa-Christine Girard, Jean-Baptiste Pingault, Orla Doyle, Bruno Falissard, Richard E. Tremblay (2015) 'Developmental Associations Between Conduct Problems and Expressive Language in Early Childhood: A Population-Based Study'. Journal of Abnormal Child Psychology .
Doyle, O., McGlanaghy, E., Palamaro Munsell, E., McAuliffe, F. (2014) 'Home based educational intervention to improve perinatal outcomes for a disadvantaged community: a randomised control trial'. European Journal of Obstetrics & Gynecology and Reproductive Biology, 180 :162-167.
Dr Stefanie Haller
Haller, Stefanie A.; Lyons, Seán (2015) 'Broadband adoption and firm productivity: Evidence from Irish manufacturing firms'. Telecommunications Policy, 39 (1):1-13.
Dr Christopher Jepsen
Ahn, T.; Jepsen, C. (2015) 'The Effect of Sharing a Mother Tongue with Peers: Evidence from North Carolina Middle Schools'. IZA Journal of Migration, 4 (5):1-21.
Jepsen, C.; Jepsen, L. (2015) 'Earnings Differences in Same-sex Couples and Other Household Types'. Industrial Relations, 54 (1):109-130.
Professor David Madden
Madden, David (2015) 'THE RELATIONSHIP BETWEEN LOW BIRTH WEIGHT AND SOCIOECONOMIC STATUS IN IRELAND (vol 46, pg 259, 2014)'. JOURNAL OF BIOSOCIAL SCIENCE, 47 (4):559-563.
Eibhlin Hudson, David Madden, Irene Mosca (2015) 'A Formal Investigation of Inequalities in Health Behaviours After Age 50 on the Island of Ireland'. Economic and Social Review, 46 (2):233-265.
Madden, D (2014) 'Winners and Losers on the Roller Coaster: Ireland, 2003-2011'. Economic and Social Review, 45 (3):405-421.
Dr Alessia Paccagnini
Alessia Paccagnini (2015) 'THE MACROECONOMIC DETERMINANTS OF THE US TERM-STRUCTURE DURING THE GREAT MODERATION'. Economic Modelling .
Rangan Gupta, Patrick T. Kanda, Mampho P. Modise, Alessia Paccagnini (2015) 'DSGE MODEL-BASED FORECASTING OF MODELED and NON-MODELED INFLATION VARIABLES in SOUTH AFRICA'. Applied Financial Economics .
Stelios Bekiros, Rangan Gupta, Alessia Paccagnini (2015) 'OIL PRICE FORECASTABILITY and ECONOMIC UNCERTAINTY'. Economics Letters .
Dr Ivan Pastine
Pastine, I; Pastine, T; Redmond, P (2015) 'Incumbent-Quality Advantage and Counterfactual Electoral Stagnation in the U.S. Senate'. Politics .
Professor Karl Whelan
Robert Gillanders and Karl Whelan (2014) 'Open For Business? Institutions, Business Environment and Economic Development'. Kyklos, 67 (4):535-558.
Professor Cormac Ó Gráda
Morgan Kelly and Cormac O Grada (2015) 'Ireland Before and During the Great Famine in Cross-Section Reconsidered'. Irish Economic and Social History, 42 .
(2015) 'Famine and the changing role of NGOs: an Irish perspective'. European Review of History/Revue Europeenne d'Histoire .
Dr Orla Doyle
Doyle, O & PFL Evaluation Team (2015) Assessing the Impact of Preparing for Life at Thirty-Six Months. Northside Partnership, Dublin.

Back to Top

Other Publications
Dr Orla Doyle
Doyle, O; Fitzpatrick, N; Lovett, J; Rawdon, C (2015) Early intervention and child health: Evidence from a Dublin-based randomized controlled trial. Working Paper.
Daly, M; Delaney, L; Doyle, O; Fitzpatrick, N; O'Farrelly, C (2014) Can early intervention policies improve wellbeing? Evidence from a randomized controlled trial. Working Paper.
McDonnell, T; Doyle, O (2014) Maternal Employment, childcare and childhood overweight during infancy. Working Paper.