‌ UCD ResLife ‌
ResLife - social hangout and pool room
The UCD ResLife Programme aims to build a community within UCD Residences through special events, fitness classes & sporting activities, adventure days, cinema nights and information on safety and awareness. We like to send you weekly emails to keep you up to date on everything that's happening on Residence. We also have Facebook, Twitter, Snapchat and Instagram so make sure to follow us via the links on the right under "useful links".
PDF 2016 / 17 calendar
You can download the following PDF attachment which will show all the activity dates. Just click on the following link: ResLife calendar 2016/17 PDF‌
Run Your Own ResLife Event
ResLife are offering residents an opportunity to get financial support and assistance with running their own ResLife event. To apply simply fill out the below application form and return to the Merville Reception. The event is planned for Tuesday, April 11th 2017. Forms should be submitted before noon on Friday, March 17th 2017.
The event is open to all residents.
ResLife Social Space booking form
You have the option of booking a social space (maximum 3 hours) through one of the residence locations. Please click here to submit your request and we will e-mail back to confirm.
Events
If you have any suggestions for events you would like us to run go to @UCDResLife on Facebook and leave us a message or email us at reslife@ucd.ie
Residential Gym
All of our residents are free to use our residential gym which is located in the Roebuck complex. Residents simply have to complete the gym induction for the Student Center Gym on your SIS Web to gain access to the main gym. Once this has been placed on your card please come to the Merville Reception and request access to the Roebuck Gym.
Weekly Events
Monday - Les Mills Bodybalance @ 17:30 in Ashfield Residence. Yoga in Blackrock Residence @ 18:30 every week during term.
Tuesday - 5-a-side soccer in astro-cages 5 and 6 by the Student Centre from 5pm to 6pm.
Wednesday - Piloxing @ 17:30 in Ashfield Residence.
Thursday - Les Mills CXworx @ 17:30 in Ashfield Residence.
Saturday - Classes have been cancelled for the remainder of the semester.
Fitness Classes
To help residents de-stress during term time we run Bodybalance in Ashfield and Yoga or Pilates classes (alternate weeks) in Blackrock on Mondays; Piloxing on Wednesdays and CXworx on Thursdays. Have a look at the full schedule on our Facebook page or on the leaflet in your welcome pack.
We provide yoga mats and all other necessary equipment for you so all you need to bring along is a small towel and a bottle of water. Of course if you have your own yoga mat you can bring it along instead. All fitness classes are free for Residents! Classes will run until 5th May 2017 excluding Bank Holidays.
Football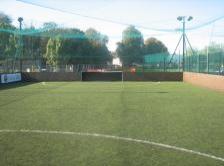 ResLife runs weekly 5-a-side football every Tuesday in the cages behind the Sports centre, free of charge! Make a team with other residents or come along and join a team. 5-a-side is a great way to meet students and to unwind in the fresh air after a busy day in classes.
Cooking Classes
‌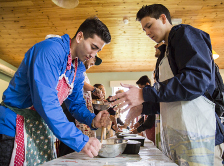 Throughout the year, we arrange regular cooking classes for our residents. Who else but the residents understand the need for quick and easy student friendly recipes on a budget! These are held every third Thursday in our Belgrove Social Space. Places are limited for the classes so be sure to sign up early. We send information about sign up in our ResLife emails.‌
Book Club
Our Book Club takes place once a month. Each month we choose a new book to discuss. Book Club is run by our friendly RA's who are students living on campus too. Even if you haven't completed the book come along to the club to meet other students and to enjoy the refreshments provided.
March 30th 2017 - Gone Girl
April 20th 2017 - The Girl on the Train
Bi-Monthly Cinema Nights
‌
During term we will hold Movie Nights in the Student Centre Cinema on campus. Residents can attend for free but seats are limited so make sure to get there early and bring your student card. Residents can vote for their preferred movie through our Facebook page poll and we usually show the movie with the most votes.
Our next movie night is on the 4th April 2017 @ 8:30pm. Signup will be required. Checkout of Facebook page for more details at the end of March.
Free Bus to Dundrum
Every so often we understand that you may get the shopping bug or you may want to go to the cinema to see the latest blockbuster. So ResLife organises a bus from residence to Dundrum for free. Save the heartache of dragging shopping bags all the way back to residence. Keep an eye on our Facebook page and weekly emails for information on upcoming buses. It's also marked on your ResLife Calendar in your Welcome Pack.
Our next bus is on 25th February 2017.
Annual Events
Valentine's Take Me Out
By far our most successful event over the last few years, our Valentine's Day Take Me Out Night will be held again this year on the 14th of February 2017. If you think you have what it takes to swoon the ladies or charm the lads then please click here to sign up. You can also email reslife@ucd.ie or pop in to talk to one of the RAs on duty in your residence. It's always a guaranteed laugh with prizes to be won on the night. Tickets will be €2 at the door but this will also enter you into our raffle on the night. Prizes include gift vouchers, merch from the UCD College Collection and top prize will be a Google Audio Chromecast. Its a great event in aid of a great cause so don't miss it!
Roebuck Castle Catered & Muckross Formal Dinners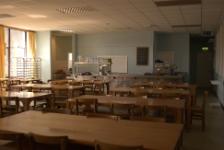 Both our catered residences have a Christmas Formal Dinner and an End of Year Feast for their residents to enjoy. Fabulous ‌food enjoyed by all with many thanks to ‌our wonderful catering staff.
Christmas Fair
‌

‌Our Annual Christmas Fair took place on December 6th 2016 and usually kicks off the Christmas spirit for our residents. Mulled wine, gingerbread men, mince pies and hog roasts are appreciated by all of our residents while also enjoying the Christmas themed rides and seasonal music. We love spreading the Christmas cheer with ResLife!
Free trips to IKEA
At the start of each term residents can signup for a seat on our free busses to IKEA, to add a personal touch to their bedrooms and apartments. A coach is organised to bring residents to and from IKEA. You can sign up for these free buses during check-in week. Checkout the events section on the @ucdreslife facebook page for more information.
Outdoor Cinema
‌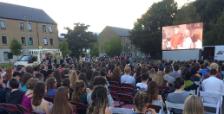 Every year, weather permitting, we put on an outdoor cinema night at the beginning of term. We reserve our Merville car park and a cinema size projector is set up. Of course it wouldn't be a proper Movie Night without sweets and treats so ResLife organises a variety of treats such as popcorn, ice cream, candyfloss or milkshakes!
‌

Casino Night‌
Professional dealers are hired for our ResLife Casino Night. Every year residents put on their glad rags and join us for a night of fun. There are always prizes to be won on the night with a prize for Best Dressed too. Come along on the 7th March 2017.
End of Year Carnival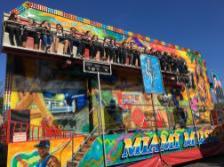 The perfect antidote to the stress of exam study! We transform our car park into a fun fair with high rides, a carousel, carnival games, a BBQ, candy floss and popcorn rounding off the evening on a high note. This year we're hosting the carnival on 18th April 2017.
‌