You are here : Home > Residences > Glenomena Residence
UCD Residences: Glenomena
Welcome to Glenomena Residences
Located on the main Belfield Campus within a short walk of the central college facilities, the apartments are formed around a series of interconnected courtyards and provide the ideal combination of secure privacy within a woodland setting.
Features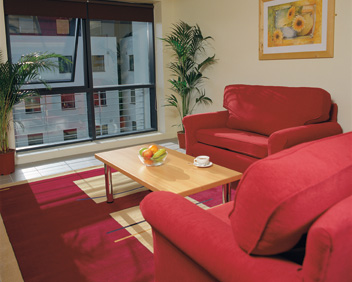 2 Semester or 3 Semester Stay Option (3 Semester bookings ideally suited to postgraduate students writing theses or dissertations or other students wishing to remain in Dublin over the summer months).
126 x six en-suite bedroom apartments with shared kitchen/living areas.
All bedrooms are comfortably furnished with work station, study lamp, generous storage and wireless internet.
The living areas are furnished with a distinctly modern kitchen with granite work tops, hob, microwave oven, two under counter refrigerators, kettle and toaster.
The rooms are fully equipped and are supplied with standard pillow and single duvet though it will be necessary to bring your own Kitchen / Tableware and bed linen.
Wireless, Local Area Network (802.11(b/g))
TV point.
Adjacent launderette, bicycle storage.
24 hour campus security.
Located within easy access to all campus restaurants, coffee shops, launderette, bookshop, convenience store, libraries, student clubs, health centre, travel centre, bank and post office.
Excellent transport services to and from the city of Dublin, only 4 miles from the city centre.
Students choosing the 50 week option may be required to move apartments for Sem III
2 miles from the Michael Smurfit Graduate School of business.
Location
Glenomena is located on the main Belfield Campus. Please see the map below for more details:
Virtual Tour
There is a Virtual tour available for this Residence:

VIEW GLENOMENA RESIDENCES VIRTUAL TOUR
Help
In event of emergency contact us at:
Glenomena Accommodation Office,
University College Dublin,
Belfield,
Dublin 4,
Ireland.
Tel: +353 1 716 1030
Fax: +353 1 716 1154
Email: residences@ucd.ie

Accommodation Office,
University College Dublin,
Belfield,
Dublin 4,
Ireland.
Tel: +353 1 716 1274
Fax: +353-1 716 1154
Email: Residences@ucd.ie