Residential Assistants
RA Applications 2018-2019
Applications for the 2018/2019 Residential Assistant role are now closed.
Benefits of being a Residential Assistant
Meeting new people and becoming more involved in UCD life
Increasing your confidence
Development of important skills to enhance your CV and your employability after your studies, such as:
Organisational and leadership skills
Communications skills
Experience of participating in a diverse and dynamic environment
Campus accommodation for 17/18 at just €2,700 for the two semesters.
Training and Support
Extensive live in training will be provided from mid-August in advance of the start of the year as an inherent part of the role.
If you have any queries please contact the Estate Services team via email ra.recruitment@ucd.ie
---
Each Residence has a dedicated team of Residential Assistants who live in on campus accommodation and work together with the Residence Service Teams to provide a high quality service for the residents.
The RAs are current UCD students who live on campus accommodation and are on duty outside of office hours including weekends.
Please feel free to call in to meet your RA's- they are students too and are happy to help with any problems big or small.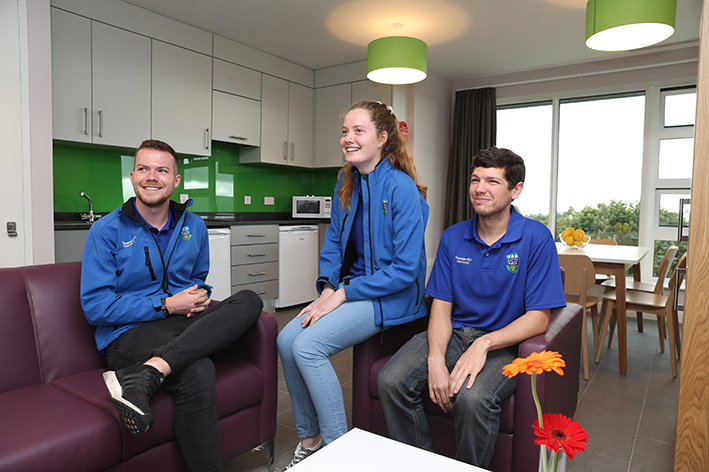 ‌
---
RA Role
The job of a Residential Assistant entails many responsibilities, ranging from small matters, such as delivering post and letting students who are locked out back into their accommodation, to large matters like unauthorized gatherings and emergency issues. An R.A has a duty to be there for the students of their residence. They are a security measure, but also a bridge between the students and the authorities who are in charge of the residences. An R.A will be there if a student has any sort of issue, be it not understanding how to get around the local area, loneliness in a new country, or having trouble with new room-mates. There is a duty on the R.A's to patrol the area and to ensure the well-being of all the residents who live there. An R.A will have to break up unauthorized gatherings on occasions but this is a necessary feature to ensure the peace and quiet that is expected by all living on residences. The job of an R.A is not an easy one but it is a rewarding experience found in few other employments that envelop all of these challenging experiences. Lastly an R.A is there as a person, approachable, friendly and giving a 24-hour service to everyone who wishes to avail.
A Day in the life of a Residential Assistant
As a residential assistant I typically work 2 days a week. We work every third night and every third weekend. Each weekday shift runs from 5pm to midnight and on the weekend we open social spaces for residents. We work in teams of two and at 5pm we both report to the Merville office and collect and sort the post. After delivering the post, we work in the office, answering phones, doing lockouts and dealing with general issues and queries that residents may have. These issues range from maintenance problems that need to be reported, an ill resident and basically anything that occurs after 5pm.
Between 10pm and midnight one of us will patrol the residence with security while the other will man the office. After 10pm we ensure that the residences are quiet and that there are no unauthorised guests etc, this includes asking residents to turn off music and to keep noise to a minimum. From time to time, we will have to report certain issues that have arisen during our shifts i.e. unauthorised guests, noise disturbances etc.
At midnight if it's quiet we close the office and one of us will take the emergency phone and the master keys in case there are any problems during the night, such as residents who are locked out or emergency issues. The following morning the RAs hand over the phone and keys and inform the office of any issues from the night before.
Occasionally it can be difficult, especially when you are woken up at 5am to let someone into their apartment or dealing with challenging situations but working as a residential assistant is a great job to have during college. It gives you an opportunity to meet an array of people and to earn some invaluable experience.