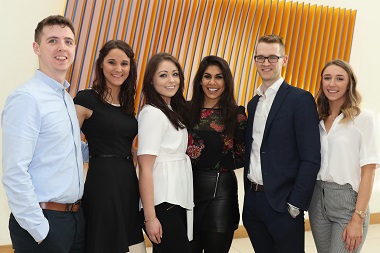 ‌
Engage Finalists 2018: Dwayne Byrne, Daniela Bossard, Robyn Bruen, Sarina Kajani, Stephen Fitzsimons and Niamh Morgan
Congratulations to all the finalists in the ENGAGE 2018:
Daniella Bossard, School of Public Health, Physiotherapy and Sports Science
Robyn Bruen, School of Biomolecular and Biomedical Science
Dwayne Byrne, School of Biomolecular and Biomedical Science
Stephen Fitzsimons, School of Biomolecular and Biomedical Science
Sarina Kajani, School of Medicine
Niamh Morgan, School of Biology and Environmental Science
After a hard fought contest, the ENGAGE trophy 2018 was awarded to Stephen Fitzsimons, for his captivating presentation 'Peeing into the Future: Using Urine to Detect Heart Disease'. Stephen described how his research is helping to develop new ways to diagnose heart disease using biological markers in urine. Stephen is a member of Assoc. Prof. Orina Belton's group in SBBS.
In second place was Sarina Kajani from UCD School of Medicine. Sarina is a Ph.D. student with Dr. Fiona McGillicuddy. In her presentation "Can the Garbageman reduce your Cholesterol?", Sarina described how an anti-inflammatory drug can preserve the function of HDL (the lipoprotein which transports cholesterol away from artery walls and eventually out of the body) even in obesity.
Audrey Bradford's poster "The Brain's Social Network" was voted best poster by the audience.
Thank you to our judges, Ms Caroline Gill (UCD), Ms. Amanda Kenny (Fighting Blindness), Dr. Giovanni Frazetto (TCD) and Dr. Jennifer Cassidy (SFI) and to our MC, Dr. Fergus McAulliffe.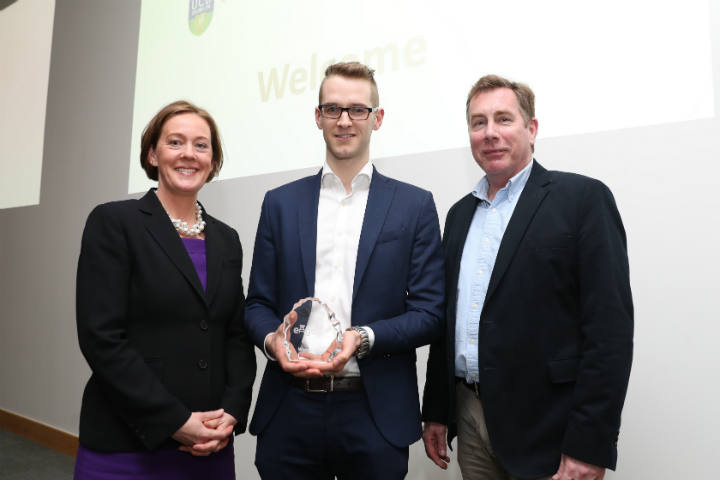 Stephen Fitzsimons, winner of the ENGAGE Trophy 2018, with Ms. Caroline Gill (Chair,judging panel) and Prof. Wim Meijer (Head of School, SBBS)
Sarina Kajani, who was awarded second place for her presentation in the ENGAGE Seminars 2018