Tackling breast cancer with a paddle
Written by:
Carolanne Doherty
Written on
Tuesday, 18 November, 2014
To mark Breast Cancer Awareness Month in October, SBI's Carolanne Doherty visited the Plurabelle Paddlers, Ireland's first dragon boat racing team whose members all have one thing in common: they have all been diagnosed with breast cancer.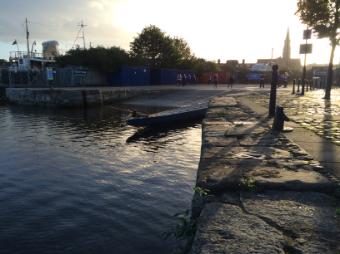 SBI's research focuses on the subcellular processes behind multifactorial diseases such as cancer, designing new therapeutic approaches to improve outcomes for patients. Our current projects including BREAST-PREDICT which is collecting tissue samples from every breast cancer patient in Ireland with the aim of finding the 'molecular signature' of the tumour.
Often in our research we quote statistics such as breast cancer being the most common cancer in women worldwide, with over 2000 women of all ages are diagnosed every year in Ireland. But these statistics can sometimes act to depersonalise the issue and I was interested to find out the reality of life for women for whom cancer is just another facet of their life.
I arranged to meet a local group of paddlers I had heard about through Tara Byrne, a patient advocate who works closely with SBI to represent the patient's voice in scientific research. Tara is a member of the Plurabelle Paddlers, Ireland's first dragon boat racing team. This group of fit, energetic women are connected by one thing: they have all been diagnosed with breast cancer.
Dragon boating and the movements inherent to it can help with complications that arise post-breast cancer surgery. Often after surgery, lymph nodes are removed which causes lymphedema. This can cause the affected arm to swell up and become extremely uncomfortable. Research has shown that repetitive upper body exercise such as paddling helps control lymphedema in women who have had breast cancer. "I find the dragon boating has helped me regain strength," explains Tara. "It's easy to start saying you cannot do something because something bad has happened, but the dragon boating pushes you to bring yourself back to the best recovery possible."
‌‌The Plurabelle Paddlers train twice a week on Dublin's Grand Canal where I meet Tara and the other paddlers, on a bright clear mid October morning. Next thing I know I'm being swept up and down the Grand Canal Dock on a dragon boat by a twenty-strong team, some women in their 60s. The paddlers training entails pyramid routine of intense rowing followed by thirty second breaks - my job is to sit on deck and beat a drum to keep the paddlers in time. Not too loud to disturb sleeping residents nearby as they start at 9am (there was an incident before... A tin of beans was thrown from a height.)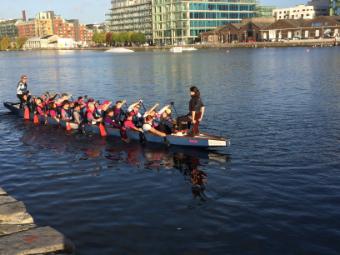 When they let me take up a paddle, I climb in and can barely keep up - dragon boating is a fast paced and highly technical sport. Although these women are connected with one another through their diagnosis with breast cancer, there is no sign that this it what unites them, except some are wearing compression sleeves to help with the side effects of lymphodema. The paddlers are extremely fit and compete at regattas all around the world; a number of the team recently represented Ireland at the International Breast Cancer Paddler's Commission's Participatory Dragon Boat Festival in Sarasota, Florida, coming 29th out of 101 international teams as well as being the fastest European breast cancer team.
After spending the morning with these inspiring women I leave with a real sense of responsibilty that we as the technical side of cancer research need to put more emphasis on linking research with the people it impacts. We retire to the Plurabelle's converted boat/club house - a beautiful handmade mosaic on the outside wall tells the story of Anna Livia Plurabelle, James Joyce's personification of the River Liffey from Finnegans Wake, and how their name was inspired by the famous verses: "Anna was, Livia is, Plurabelle's to be."
---
Carolanne Doherty is a PhD researcher at SBI whose work focuses on signalling of the MST2/LATS1 pathway which is altered in many human cancers, in particular a protein called YAP which can act as a tumour suppressor or an oncogene.
SBI breast cancer projects:
BREAST-PREDICT: a country-wide collaboration between experts in the area of breast cancer research, funded by the Irish Cancer Society
Understanding the role of ISG15 in how breast cancer cell start to migrate: project supported by Breast Cancer Campaign and led by Dr Alex von Kriegsheim
comments powered by

Disqus