SBI do Movember
Written by:
Susan Kennedy, Ana Herrero, Carolanne Doherty
Written on
Monday, 01 December, 2014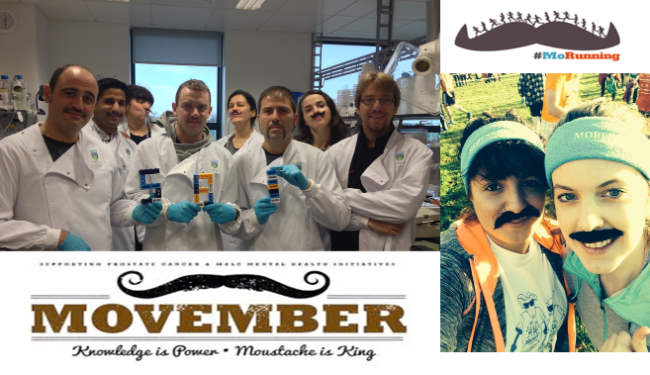 As the Movember campaign draws to a close the Mo Sistas and Mo Bros of Systems Biology Ireland got together to discuss the Mo Bros donating their upper-lip to raise funds and awareness for prostate cancer, the second most common cancer in males. Movember is the world's largest funder of prostate cancer research with over €215 million raised worldwide to date. Not only is the Movember Movement about raising funds, more importantly it is about educating men about the signs and symptoms of prostate cancer and getting them to engage in active conversations about their health issues. Mo Bros in SBI include: Niall Quinn, David Gomez, Javier Rodriguez and Satnam Surae.
Mo Sistas: Mo-bros, we really moustache you some questions rather than shavin'it for later! Have you participated in Movember previously?
Mo Bros: No, apart from Niall. For Javier this is going to be the first year of many as he displays the most elaborate Mo in the lab. For DG he hasn't grown a Mo before due to his sensitive skin and is currently finding the daily shaving regime torturous. (Mo Sistas: only 2 more weeks to go David, we'll buy you some aloe-vera!).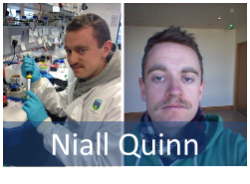 Mo Sistas: Why did you decide to take part this year?
Mo Bros: As Scientists we understand the need and lack of funding for research so it's important to have the Movember campaign to generate funding. The other reason is to raise awareness for men to know the signs of Prostate Cancer and not to be afraid to get checked-out properly by a Doctor as early detection is vital and men are less likely than women to visit a doctors office. It's also great that this year funds are being contributed to mental health projects and research.
‌Mo Sistas: Who is your Mo-idol?‌
Mo Bros: Ned Flanders (NQ), Ron Burgundy (SS), Super Mario Bros (JR) and Rudi Voller (DG: "Pity I can't do a perm, otherwise I'd look like Rudy Voller").
Mo Sistas: Have there been any benefits to having a Mo?
Mo Bros: None, for the usually bearded NQ he found it very cold to adjust to at the start! DG enjoys a laugh each morning when he reminds himself of his new facial hair. For JR it's funny to see what he would have looked like if he had been around in 70s.
‌While the Mo-bros were working hard on adding Miracle-Gro to their upper-lip patch during the month, Mo Sistas Niamh and Emma endured a grueling 7 week training session in preparation for the MoRun in the Phoenix Park on Saturday 15th November. The pair successfully completed their first 5k while sporting a Mo in the process! Super work Mo Sistas!
If you would like to contribute to the great efforts of the SBI members who participated in Movember this year, with almost €1,000 raised to date, check out the SBI Ronnies Movember page.
---
Susan Kennedy is a postdoctoral researcher working on the PRIMES project which focuses on protein interactions occurring in the EGFR/ERBB signalling network; postdoctoral researcher Ana Herrero studies of signalling pathways involved in cancer processes with current projects on Ras signalling and the regulation of Akt by RKIP; and Carolanne Doherty is a PhD researcher whose work focuses on signalling of the MST2/LATS1 pathway which is altered in many human cancers, in particular a protein called YAP which can act as a tumour suppressor or an oncogene.
comments powered by

Disqus