SBI Team at Innovation Showcase 2014
Written by:
David Kavanagh
Written on
Wednesday, 03 December, 2014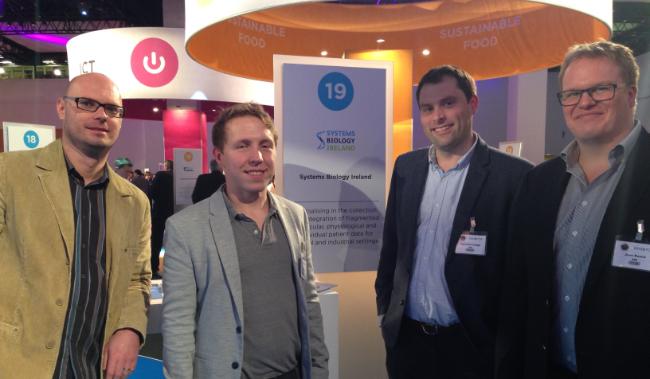 Enterprise Ireland, IDA and SFI jointly hosted the 2014 Innovation Showcase at the Convention Centre, Dublin, 2nd December 2014. This now annual event brings together researchers, innovators, entrepreneurs and business leaders from across the island of Ireland to showcase the cutting edge research that takes place within Ireland's research institutes. This year's event was attended by over 2,100 delegates with exhibitors from 38 Irish research centres, technology centres and national research institutes and facilities.
The SBI team was out in force at the event and the team (pictured above, L-R: Maciej Dobrzynski, Will Fitzmaurice, David Kavanagh and Jens Rauch) had an opportunity to meet with some of Ireland's leading innovators. In addition to the strong basic research track record, researchers at SBI have been important partners in innovation projects led by companies such as Astra Zeneca, Ark Therapeutics, Janssen and Servier. Depending on the scope of the project there are a range of funding instruments that can be utilised to support collaborative research projects.
If your organisation is facing a particular innovation challenge our team is available to discuss. Contact sbiadmin@ucd.ie or read more about the ways we can work with you.
comments powered by

Disqus