Success for SBI at 2014 Irish Lab Awards
Written by:
Yvonne Smith
Written on
Friday, 05 December, 2014
The Irish Laboratory Awards 2014 took place in Dublin this week on Wednesday December 3rd and it was a successful night for Systems Biology Ireland with Amaya Garcia-Muñoz taking home the prize for 'Laboratory Staff Member of the Year'. Amaya is a very worthy recipient of this award and was nominated by the team at Systems Biology Ireland for her tremendous efforts in running the SBI wet lab facilities and introducing numerous cost-saving measures. SBI Director Prof. Walter Kolch spoke of his delight at hearing of Amaya's success: "This award is a well-earned acknowledgement of the important contribution our laboratory staff makes to our research and progress." Alphonso Blanco, Amaya's husband and also director of the UCD Conway Flow Cytometry Core, was at the ceremony to collect the award on her behalf.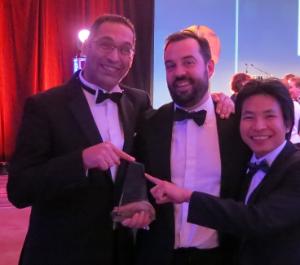 In addition to Amaya's win at the awards ceremony, SBI researchers were also shortlisted in two other categories. Dr Alex von Kriegsheim was shortlisted for 'Laboratory Scientist of the Year', while Dr Lan Nguyen was shortlisted in the 'Young Leader of the Year' category (pictured right with Alphonso Blanco and Amaya's award). Both were very competitive categories and so being shortlisted is a fantastic achievement.
The 'Collaboration Achievement Award' went to the Irish Cancer Society Collaborative Cancer Research Centre BREAST-PREDICT, which includes SBI's Walter Kolch and Des Higgins amongst its PIs.
2014 Irish Laboratory Awards judging panel chaired by Dr Catherine Dempsey, a freelance scientific consultant, comprises senior executives and scientists from industry, national funding agencies and the education sector.‌
Systems Biology Ireland has a history of success at the Irish Lab Awards, having won the 'Education Laboratory of the Year' in 2013. Here's hoping for another successful year in 2015 and well done to all involved!
comments powered by

Disqus