PRIMES mid term review held in Vienna
Written by:
Nora Rauch, Colm O'Hehir
Written on
Tuesday, 16 December, 2014
The PRIMES Mid Term Review took place on 1st December followed by the project's annual meeting on 2nd and 3rd December in Vienna. PRIMES is a 13 partner European FP7 - HEALTH - 2011 collaborative project in the theme "Proteins and their interactions in health and disease". Using a combination of genomics, proteomics and mathematical modelling, PRIMES focuses on the role of protein interactions to assemble dynamic molecular machines that receive and process information to coordinate cellular responses.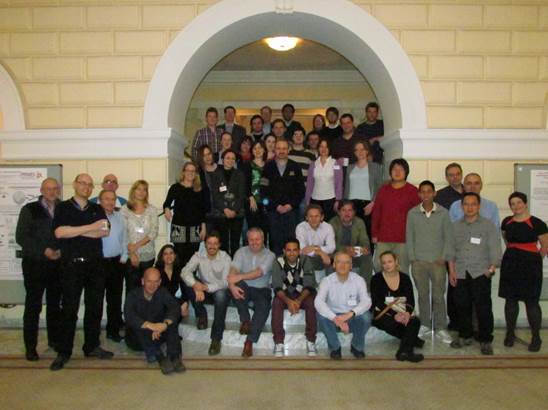 The PRIMES project partners in Vienna, December 2014
Led by SBI PIs Walter Kolch, Boris Kholodenko and Matthias Wilm, the research investigates three areas:
How do protein interactions contribute to the generation of biological specificity in signalling?
How do pathogenetic perturbations affect protein interaction networks?
How can we exploit protein interactions as therapeutic targets?
The mid term review is a key project milestone designed to evaluate the current progress on the research and to structure the remaining work to achieve the goals of the project, and a valuable opportunity to bring the thirteen project partners together. The partners were joined in Vienna by the scientific advisory board, EU Project Officer Tomasz Dylag and external reviewer Prof Lucia Altucci.
In addition, the SBI-led European collaborative project ASSET had its annual meeting in Vienna following the PRIMES review. In total, sixteen members of the SBI team working on the two projects travelled to Vienna to discuss their latest research with colleagues from across Europe.
---
Nora Rauch is a postdoctoral researcher at SBI interested in protein interactions in the oncogenic EGFR signaling network. Colm O'Hehir is the SBI centre administrator, providing support to the director and deputy director, as well as working with the grants manager on the ASSET and PRIMES projects.
comments powered by

Disqus