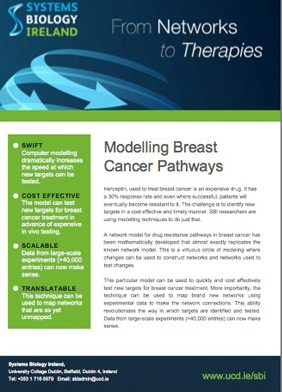 Herceptin, used to treat breast cancer is an expensive drug. It has a 30% response rate and even where successful, patients will eventually become resistant to it. The challenge is to identify new targets in a cost effective and timely manner. SBI researchers are using modelling techniques to do just that.
A network model for drug resistance pathways in breast cancer has been mathematically developed that almost exactly replicates the known network model. This is a virtuous circle of modeling where changes can be used to construct networks and networks used to test changes.
This particular model can be used to quickly and cost effectively test new targets for breast cancer treatment. More importantly, the technique can be used to map brand new networks using experimental data to make the network connections. This ability revolutionises the way in which targets are identified and tested. Data from large-scale experiments (>40,000 entries) can now make sense.