RTK Consortium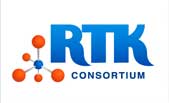 The Receptor Tyrosine Kinase (RTK) Networks Consortium is an organisation to facilitate and coordinate international efforts for the continued understanding of RTK signalling pathways and its relationship to human pathologies
The Receptor Tyrosine Kinase (RTK) Networks Consortium is an organization to facilitate and coordinate international efforts for the continued understanding of RTK signaling pathways and its relationship to human pathologies.
Biology is undergoing a fundamental shift from a descriptive to a quantitative, predictive science. This transition is being driven by the development of computer-based models of complex biological processes that can both capture and recapitulate the central metabolic and information processing networks of cells.
Receptor tyrosine kinases (RTKs) are central components of cell signalling networks and play crucial roles in normal physiological processes, such as embryogenesis, cell proliferation and cell death (apoptosis). RTK networks function to detect, amplify, filter and process a variety of environmental and intercellular cues. These networks have been intensively studied for the last 20 years, only since the completion of the Human Genome Project has the breadth and scope of their regulatory function become apparent.
The objective of the consortium is to facilitate research for obtaining as complete as possible an understanding of RTK biological networks and to
Build a high-resolution, quantitative understanding of the RTK systems through quantitative study of RTK processes as whole integrated systems and the identification of key components and regulations, design and extension of assays de novo, and formulation of a series of mathematical models of RTK regulatory networks.
Generate and test hypotheses important for the identification of therapeutic targets and translational research
This consortium is funded by contributions from Pacific Northwest and RIKEN.