Spotlight Graduate Profile - Emma Cullen (BSc Microbiology)
‌Posted: 09 February 2018
Meet UCD Microbiology graduate Emma Cullen...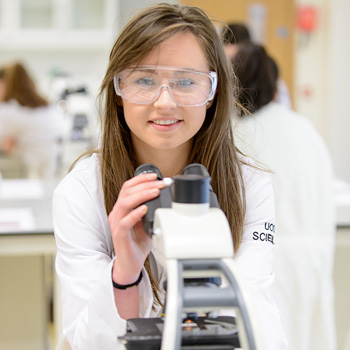 Image: Vincent Hoban (UCD Media Services)
19 May 2017: My final undergraduate exam in the RDS.
19 June 2017: My first day in work at Glanbia.
8 September 2017: Receiving my scroll in the O'Reilly Hall for a BSc in Microbiology.
After four exciting years of undergraduate preparation in UCD, it certainly was a busy few months building up to graduation day. While carrying out my thesis in UCD, I applied to the Glanbia 'Pure Ambition' Graduate Programme and that is where I have found myself today. A previous internship with the Food Safety Authority of Ireland in the summer of third year had sparked an interest for the food industry so I couldn't think of a better experience than a hands-on graduate programme with a global nutritional company.
I am currently working as a QA Food Science associate in a Glanbia dairy and am involved in assurance of the quality of milk from raw milk intake to final product despatch. My analytical style of thinking developed throughout my degree with UCD is vital for my role, working with large sets of data. The programme is two years in length with a rotation for the second year either in a new role or to a new geographical location or both. I would love the opportunity to try R&D as part of my rotation, something different but I'm sure equally as challenging as quality assurance.
I am looking forward to the year ahead.
Emma Cullen graduated from UCD with a BSc Microbiology in 2017 and works for Glanbia.