SLCL Alumni Reception 2019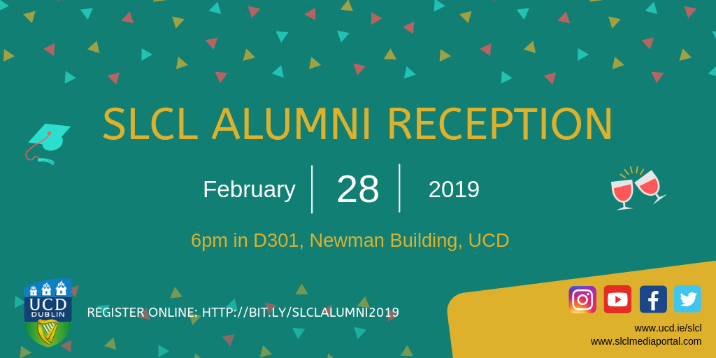 We are delighted to invite you to the Grand Opening of our newly refurbished premises and our first Alumni Networking Event on Thursday, 28th February 2019 at 6pm in D301 (Newman Building, UCD).
Registration for Alumni: http://bit.ly/SLCLAlumni2019
If you graduated from UCD over a decade ago, you may not even be aware of the existence of our School as we have undergone major restructurings over the past decade. In 2004/2005 the five separate language departments formed the School of Languages, Literatures and Film, to become the School of Languages and Literatures in 2006 – and finally: the School of Languages, Cultures and Linguistics in 2015.
During that time we have had to bid farewell to many colleagues who have retired, and in return we have welcomed many new staff members to our School. Of course, we have also welcomed new students while proudly watching others graduating. In 2018 we introduced our new pathways for undergraduate students and moved into our newly refurbished offices on the third floor of Newman.
In order to embrace the future, but also preserve our past, we would now like to strengthen our connections with former students and colleagues and would be delighted if you could join us on 28th February for a convivial get-together to reminisce about old times, share memories, meet old friends, revive old connections and form new ones!
The evening's programme is as follows:
6pm Welcome wine reception
6.30pm Welcome by the Head of School, Prof. Bettina Migge
6.35pm Talks by Emeritus
Eric Haywood (Emeritus):

Born and brought up in Switzerland, ERIC HAYWOOD is a graduate of Cambridge and Edinburgh universities, and an alumnus of the European University Institute in Florence. A former President of the Irish Association of Teachers of Italian, Director of the UCD Foundation for Italian Studies, and Chairman of Swiss Club Ireland, he is Associate Professor Emeritus of Italian Studies at University College Dublin (UCD), where he taught Italian language and literature for close on 40 years, specializing in the culture of the Renaissance. His research interests include: Italian descriptions of Ireland, Sannazaro's Arcadia and the birth of the Arcadian myth, Boccaccio's Griselda (Decameron 10.10), the Renaissance in the Kingdom of Naples, Machiavelli's comedy Mandragola, Ariosto's Orlando Furioso and its first English translation. He is fluent in and can lecture in five languages: Italian, English, French, Modern Greek, and German. He is a Cavaliere dell'Ordine della Stella d'Italia.

Vĕra Cápková (Emeritus):

Vĕra Cápková graduated from Charles University in Prague with a Prom Phil in 1962. Thereafter she worked for the Academy of Sciences on an etymological dictionary for Slavonic and contributed material that is still being used in the compilation of the etymological dictionary of Old Church Slavonic.

In 1968, while holidaying in Ireland, Vĕra learned of the invasion of her home country by the then Soviet army and was faced with a difficult decision. She opted to remain in Ireland and began her association with UCD, starting as part-time lecturer in linguistics. She was appointed a full time lecturer in 1977 and joined Prof Conn Ó Cléirigh and Dr Richard Walsh in their mission to build a vibrant linguistics department. She became a college lecturer in 1980.

Vĕra brought with her valuable training and expertise in Indo-European and Slavonic and a passionate commitment to her subject, which developed into a heavy teaching load. She contributed a course in Old Church Slavonic and lectured in various topics in the MPhil in Medieval Studies and the MA in European studies. She organized a number of successful colloquiums in her capacity as a member of the sub-committee for Greek and Latin studies in the Royal Irish Academy. In 1992, Vĕra assumed responsibility as the head of the Linguistics department, which she held until her retirement in 2002.

She also involved herself in fostering Irish -Czech relations and had been recognized with various awards in recognition of her contribution to developing cultural relations between the two countries.

Generations of students remember Vĕra as an outstanding teacher with an enormous breath of knowledge, and equally as a mentor with a genuine concern for their well-being.


7.00pm Roundtable Discussion with SLCL Alumni
Nicholas Twist: Nick Twist has recently retired as Irish Ambassador to the Republic of Cyprus. He studied German and Italian in his Undergraduate degree and returned to UCD last year to complete the Higher Diploma in French. In the course of his diplomatic career, he served in several European capitals (Rome, The Hague, Copenhagen, Vienna, Nicosia) as well as representing Ireland at the European Union in Brussels, the Organisation for Security and Cooperation in Europe, based in Vienna, and various UN bodies also located in Vienna. His knowledge of host-country languages and cultures greatly enhanced effectiveness and enjoyment of each assignment. A career highlight was his involvement in the multilateral process which culminated in the adoption at an international conference in Dublin of the Convention on Cluster Munitions.

Niamh O'Connell: Niamh O'Connell has studied Spanish and French in UCD and graduated with a BA (Hons)
in 2000. She is now running The Wellness Clinic (www.thewellnessclinic.ie)in Dublin.
Seán O'Keeffe: Seán graudated from UCD with a BA in International Modern Languages in German and
Spanish in 2018.He completed his Erasmus year at the FU Berlin. He is currently working at Lidl as "Sales Organisation Coordinator". In 2008 he was presented with an award at the NUI award-ceremony (based on his final-year results).


Deirdre Hanley: Deirdre graduated from UCD with an Arts Degree in Arts History and French in
2013 and completed the MA in Modern Languages in 2016.

7.20pm Food and Wine reception
We would be delighted if you could bring photos or any other memories to add to our memory wall! Digital versions may even be emailed in advance to alumnicommunications@ucd.ie.