MLitt & Structured PhD
Application Code
PhD: Z129 (full-time) & Z130 (part-time)
MLitt: Z113 (full-time) & Z184 (part-time)
A love of research can sometimes blossom early, but it may also emerge more gradually. It may be fostered during your undergraduate study, but could equally develop at a later stage based on an idea for a project, or following travel, work or general life experience. It may be sparked by a particular cultural or intellectual encounter or simply from curiosity and interest in further study. Carrying out postgraduate research can be an enriching experience as well as leading to an internationally recognized qualification that can not only open doors to career opportunities, but can – for those research graduates who may not be certain whether they wish to remain entirely in academic life – greatly enhance the opportunities for progression within companies, organisations and a wide range of professions. An MLitt or PhD in a Modern Language and/or Literature in their related cultures or in any aspect of Linguistics is a key specialization for many walks of life, as well as being a pathway to a career in the academic and educational spheres.
If you are thinking about further study, we would like to welcome you to come to speak with us at any time; our staff are actively conducting research, they will share your enthusiasm and will be very happy to help you find a research project. You can view their research interests and see those areas in which they offer supervision here. Both MLitt and PhD degrees involve working with an academic supervisor. She or he will guide you from the early stages of developing a research project to bringing it to conclusion.
Typically, an MLitt research degree (full-time) will take two years. A PhD is a research degree that usually takes 4 years. (Both degrees are also available part-time*, and an MLitt student can transfer into a PhD degree or vice versa, shortening or extending the length of time for that programme). Both the MLitt and PhD programmes involve writing a longer research Dissertation and also incorporate some taught elements.
*Please note that the part-time option is only available to EU students.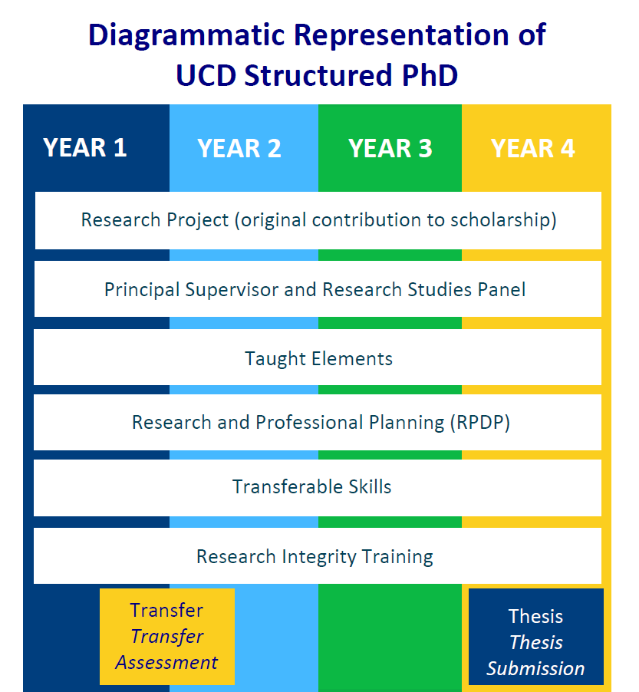 (https://www.ucd.ie/graduatestudies/researchprogrammes/structuredphd/)
---
Please send an email to slclgraduates@ucd.ie should you require further information.
Information on the Structured PhD from the UCD Graduate School can be found here. Specific information to SLCL can be found below. Applicants and SLCL PhD students must adhere to SLCL regulations.

---
Show/hide contentOpenClose All
Become a part of the SLCL Graduate Community
The School of Languages, Cultures and Linguistics offers a welcoming research and learning environment for MA, MLitt and PhD students.
We have an active and supportive Graduate community in our School with regular events and get-togethers organised throughout the year.
Find out more about the SLCL Graduate Community HERE.
Meet our current PhD students and learn about their resarch projects on the SLCL Media Portal.