UCD Social Sciences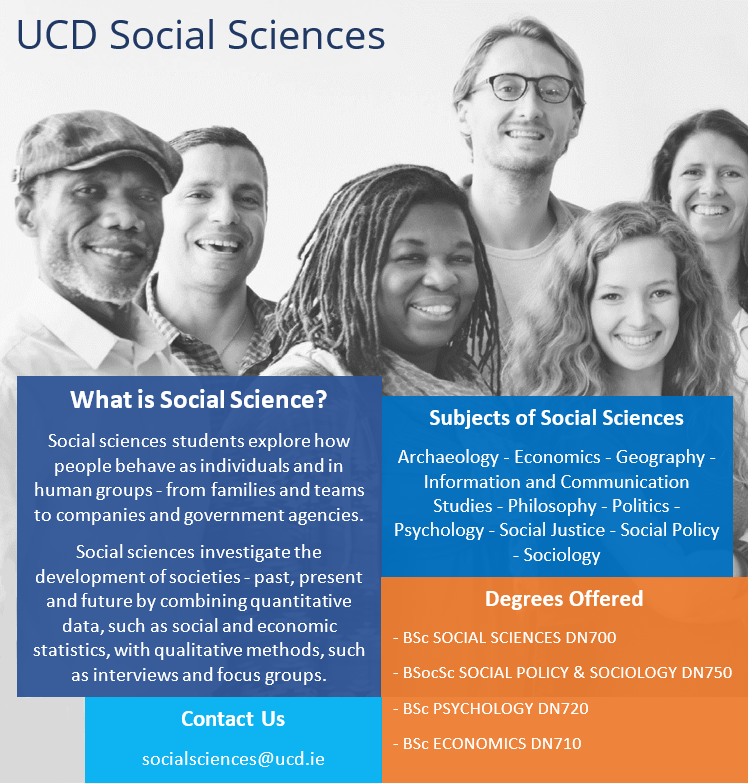 ‌
Studying Social Sciences in UCD
- A discipline that explores the past by applying the methods of both the arts and the sciences.
- Explores how people make decisions, and how they choose between alternative ways of spending their money and using their skills, energy and time in a wide range of human endeavours.
- Understand the context in which environmental, socio-cultural and politico-economic decision-making takes place and develop skills that prepare you for the workplaces and societies of tomorrow.
- Information plays a key role in all aspects of life – in business, government, society and the life of the individual. Knowing how to create, manage, share, find and use digital information is more relevant than ever before.
- Gain rigorous analysis of real-world problems and clear communication of complex ideas and concepts, and a capacity for detailed research.
- Develop the ability to analyse the complex interplay between national and international political institutions, systems and forces.
- Psychology has links to the natural sciences, the social sciences and the arts and humanities. Some specialist areas of psychology include counselling, clinical psychology and work and organisational psychology.
- Social Policy is the study of the social impact of policies such as social services, social security benefits and the welfare state.
- The subject of Social Justice draws on a range of academic disciplines in order to advance understanding of issues such as inequality, discrimination and human rights abuses.
- Sociology seeks to explain how people relate with each other, how hidden structures play an important role in everyday life and how society shapes the way individuals behave.
Studying Social Sciences Pathways in UCD
- Explores key social issues affecting societies in the European Union, the USA and East Asia including: poverty, homelessness, addiction, mental illness, social stratification, criminal justice, globalisation, gender equality, sexualities and reproductive health, childhood and children's services, and tax and welfare systems.
- A pioneering degree that will enable students to leverage the power of big data, computer simulations and social networks to understand social phenomena and individual behaviour.
- This programme enables you to explore the sought-after combination of Economics, Mathematics and Statistics in depth while also emphasising how they complement each other.
- A unique interdisciplinary combination of natural and cultural perspectives on the formation, cultural significance and management of the landscape
- Examines the complex economic and political forces in play, the problems of measuring and assessing the health of society, and the principles of justice that should guide political decision-making to improve society.