UCD Special Collections Refurbishment Projects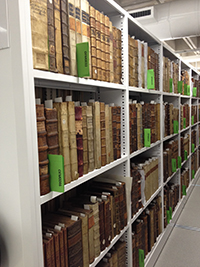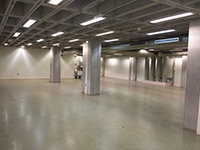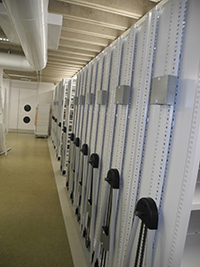 In early 2016 the UCD Special Collections storage area was expanded, refurbished and upgraded. The space had originally been fitted out with static shelves in the mid 1970s when the first phase of the James Joyce Library was built. Over time, our collections of books, manuscripts and modern archives have grown through donations, deposit agreements and purchases. In addition, collections and individual items have been moved from elsewhere in UCD library to Special Collections because of age, rarity or format. Consequently, Special Collections had outgrown its original storage space and some Special Collections material was being stored in other parts of the library building.
In late 2015 work began on the expansion of the storage space designated for Special Collections and in early 2016 this new space was fitted out with a high specification new rolling shelf system. Special Collections staff undertook the mammoth task of planning and supervising the moving of the books and manuscripts into this new space while work continued on fitting the original Special Collections storage area with rolling shelves. The expansion of the storage area and the introduction of rolling shelves led to a 220% increase in space available for Special Collections material.
This increase in our shelving space has allowed us to move important university collections like the Royal College of Science for Ireland collection into Special Collections. It has allowed us to store our large items, including maps and drawings as well as other loose leaf material in appropriate storage. It has allowed us to consolidate collections which had been scattered. It has also led to the discovery of some items which were previously held in inaccessible areas of the store.
The new UCD Special Collections store befits the nationally important collections, like that of the Catholic University of Ireland, the Royal College of Science, the Kavanagh Archive, the Frank McGuinness Archive, the Curran collection (to name but a few!) which it accommodates.