Latest SPIRe Publications
The Challenges and Opportunities Presented by Trade Partnerships between Africa and Ireland
Presented to the 2013 RIA Conference for International Affairs
Forthcoming in Irish Studies in International Affairs, RIA, November 2013
Susan Murphy, Assistant Professor in Development Practice, School of Natural Sciences, Trinity College Dublin
Patrick Paul Walsh, Chair of International Development Studies, School of Politics and International Relations, University College Dublin
ABSTRACT
In this paper we examine the challenges and opportunities generated by Ireland's strategic approach to trade as an instrument for international development, as outlined in its policy documents One World One Future – Ireland's Policy for International Development (2013), and The Africa Strategy (2011). The policy seeks to move away from the traditional basis of aid, towards two-way trade and investment links with targeted African partners that can produce mutual benefits for Ireland and key partner countries. The policy advocates the use of a 'whole of government' approach with the dual objectives of promoting sustainable and inclusive economic growth, and protecting the most vulnerable populations in key partner countries. Through an analysis of the Irish economic development model, we outline the policies and institutions that were required at the nation state level to attract capital investment in export platforms, to ensure the benefits were appropriated and distributed to the general population, and the basic rights of the population were protected. We argue that technical support to key partner countries is required to support the development of such institutional structures as Ireland embarks on two-way trade and investment, and diverts ODA to Private and Public Partnerships that invest in African nation states. Such institutions are also necessary to protect African nation states from undesirable outcomes from EU and Africa Economic Partnerships.
To view the full version of this paper click here
---
Irish Governance in Crisis
Edited by Dr Niamh Hardiman
Manchester University Press (2012)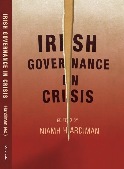 Ireland's international reputation changed rapidly from global success story to European problem-case. How did this happen? What are the implications for our view of good governance? This book argues that there is a crisis in the way the Irish state is structured and in the manner in which it relates to the main organized interests in the society. Through a set of linked policy studies, it shows how sectional benefits can be prioritized where public interest considerations are weakly articulated and debated. Policy choices may entail unintended perverse consequences that, once embedded, can be difficult to alter. The book traces these weaknesses to the dominance of parties, the permeability of the political system to sectional interests, and the weakness of democratic accountability. A powerful concluding chapter sets out an agenda for future research on institutional design and political reform. This book sets out a compelling argument that institutional design matters, especially in an increasingly global and interdependent world.