Brand New Aqua Classes
Aquafit
Aquafit is a low-impact form of resistance training which is great for improving both cardiovascular fitness and toning muscles. It is one of the most popular types of training as it is suitable for everyone regardless of age or current level of physical fitness.
Aquafit is also referred to as water aerobics and it has many health benefits such as increasing balance and enhancing cardiovascular and muscle endurance in a fun and upbeat environment. Water is a unique medium which offers equal resistance and thus the body is forced to use all of its muscles accordingly, this means your body gets a workout which it will receive nowhere else.
Burns 396 calories
Aquafit class times at UCD Sport & Fitness…
Monday 9.30am
Wednesday 9.30am
For July Classes will start at 9am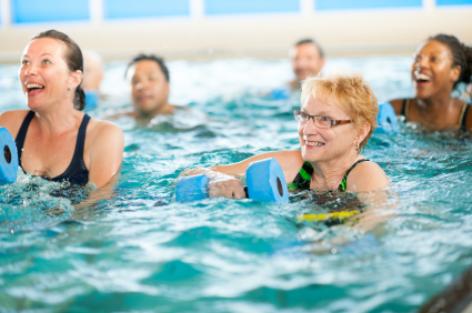 Hydroburn
All new Hydroburn is a high intensity programme, delivered in deep water, for those who are looking for a challenging workout with absolutely no impact – making it an ideal alternative for athletes maintaining cardiovascular fitness and strength through rehabilitation and cross-training, while also increasing flexibility and reducing body fat.
Water provides unique challenges and benefits to the body's core strength and stability when exercising. The buoyant environment means that muscle stabilisers of the spine and pelvis are constantly active and engaged throughout the class. The reduction in your heart rate, caused by the deep water, allows you to work harder while not feeling the strain associated with a land-based workout.
Burns 473 calories
Tuesday 8.00pm
Friday 10.00am