FINANCIAL SUPPORTS FOR STUDENTS IN UCD
Please be advised that the information contained here relates to the 2017-18 academic year only. Funding may change from year to year.
As a student of University College Dublin, you are expected to have budgeted appropriately and sufficiently before starting your studies here. However, we recognise that financial problems can arise for a number of reasons. To allow for these circumstances, UCD offers two opportunities for students to apply for financial assistance.
These schemes are funded by the Irish Government and part-funded by the European Social Fund Programme for Employability, Inclusion & Learning 2014-2020. It should be noted that these funds cannot normally be used to pay for registration or tuition fees. If you are unsure whether or not you may be eligible for financial assistance form either the Student Support Fund or the Student Welfare Fund please contact your Student Adviser in the first instance.
Summary of funds:
| | | |
| --- | --- | --- |
| Student Support Fund | Student Welfare Fund | SVP Fund |
| Opens early semester 1 – EU only | Open all year – open to all | Open all year – open to all |
| Means-tested | Not means-tested – must be UNFORSEEN circumstances | Not means-tested – critical/emergency |
| €500 | €varies | €150 max |
| Apply through SISWeb | Apply through SISWeb – in contact with Student Adviser | Contact welfare@ucdsvp.ie or Fr Leon 086 396 3685 |
| Receipts of €500 needed | Receipts needed – please speak to your Student Adviser | No receipts – emergency fund |
Show/hide contentOpenClose All
The Student Support Fund (SSF) is a means-tested fund intended to help students who are experiencing financial challenges in college as a result of ongoing low income.
Who can apply?
Any student who is currently registered to a full-time or part-time UCD programme of at least one year's duration and which leads either to an undergraduate or postgraduate qualification.
Who can't apply?
Students who have non-EU status and those attending foundation or access courses are ineligible for the Student Support Fund.
Students who have completed a degree/Masters/PhD and are undertaking a second qualification at the same level are ineligible to apply. Students from Graduate Entry programmes, however, will be considered.
How do I apply?
The application process for the SSF opens on 10th October. Once it's open, students are notified through the fortnightly student e-zine which is sent to your UCDConnect email address.
From October 10th log on to your SISWeb account.
Click the Programme Services Tab, then Welfare & Assistance, Student Support Fund.
Complete the form, print a copy, click submit.
Source your supporting documentation (2016 calendar year), eg P21 (balancing statement available from Revenue) or Statement from Social Welfare or Notice of Assessment.
Download and complete the Receipt Record Form.
Before submitting your application, you must read the guidelines. You can access them here‌ (.doc file)
A copy of your printed online form, together with your financial documents and relevant receipts should be sent to the fund administrator – Fran Rooney, Student Centre, Belfield, Dublin 4. Please download a copy of the Receipt Record Form (.doc file). Receipts should be relevant to this academic year and should total to the minimum value of €500. All applications must be placed in an envelope and marked for her attention. Incomplete applications will not be processed.
When can I apply?
Applications are accepted at any point after the fund opens but you should note that it operates on a 'first come, first served' basis so the earlier you apply, the better. Payments are made on a one-off basis in any given academic year directly to your bank account. Payments may vary from year to year but successful applicants should expect to receive up to €500.
The purpose of this discretionary fund is to offer financial assistance to students who encounter acute and unexpected difficulties during their time of study in UCD. Illnesses, bereavement and sudden unemployment are some of the issues which may make you eligible for Welfare Fund support. To make an application to the Welfare Fund, you must clearly demonstrate this aspect to your circumstances. Ongoing low income does not, in and of itself, qualify you for Welfare Fund Assistance.
Who can apply?
You must be registered to a UCD programme of at least one year's duration and which leads to either an undergraduate or postgraduate qualification.
How do I apply?
Before making an application, you must first read the guidelines (.doc file) and meet with either your Student Adviser or Chaplain to discuss your circumstances. To verify your application, they will confirm that you have met with them. Your application will be treated confidentially and with respect at all times. Prior to making your application you need to download the Receipt Record (.doc file) form and the Student Budget (.doc file) page and save both to your PC.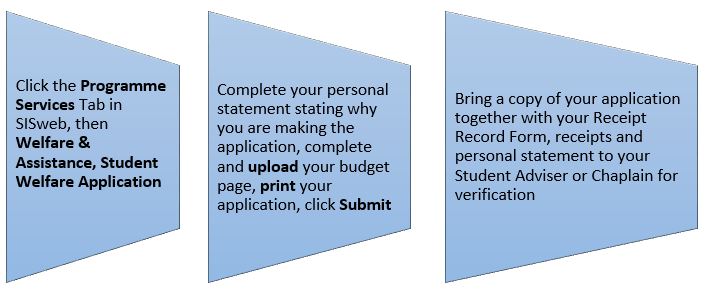 Receipts for the Welfare Fund should relate to the current academic year. They must be original rather than copies, and must relate to your own expenditure. If you are submitting rent receipts, you must include full confirmation of how much rent you have paid ie a lease is not sufficient if it is not accompanied by bank statements/ slips.
FUNDING YOUR STUDIES
Check out studentfinance.ie a Higher Education Authority (HEA) website as a useful source of information on funding higher education
GRANTS
Students wishing to apply for a higher education grant should contact Susi at www.susi.ie
SCHOLARSHIPS
UCD rewards excellence by awarding scholarships across a range of categories. Further details available here.
BUDGETING
Whether you are self-funded or supported by family it is important to budget for the academic year. The Competition & Consumer Protection website is a very good resource for information on managing your money. It also has very useful data on Rights & Entitlements.
A guideline on living costs in Dublin can be seen here. But, this shows average amounts and students' needs differ. However, substantial savings on travel can be made by getting a Leap card. On campus, you can buy one during term time from the office in the Students' Union on Monday, Tuesday and Thursday between 10 and 1. This card also entitles you to discounts at a range of retailers.
You might also like to check out campus.ie for vouchers
Mature Students - Fees
Finance Information Evening for Mature Years Applicants to UCD 21st June 2017. Click on the link below to access the presentation delivered on fees.
Fees and Finance Support June 2017 update