Impact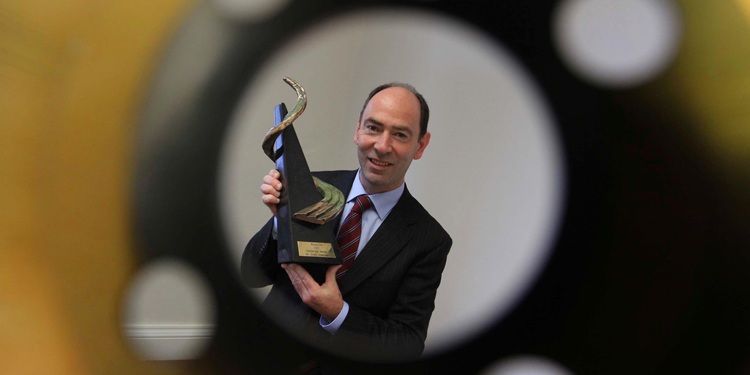 November 2018
A paper titled - Application of additive manufacturing in design and manufacturing engineering education, S. G. Keaveney and D. P. Dowling, 2nd International Symposium on Small-scale Intelligent Manufacturing Systems (SIMS), 2018, 10.1109/SIMS.2018.8355289, was highlighted on the 3DPrint.com site:
November 2018
Dr. Sarah Brady won first prize worth $10,000, which included a cash prize, an INTAMSYS 3D printer and several kilos of printing filaments, as part of a global 3D printing competition organised by Intelligent Additive Manufacturing Systems (INTAMSYS). The prize was for the design and 3D printing of a disposable reactor used to controllably mix chemical precursors used in the manufacture of pharmaceutical agents.
Charles Han, CEO of INTAMSYS presenting the prize to Sarah Brady
May 2018
The paper, "Evaluation of the mechanical performance of polymer parts fabricated using a production scale multi jet fusion printing process. H. J.O' Connor, A. N. Dickson, D. P. Dowling" was accepted in the journal Additive Manufacturing. This is the first paper to report on the performance of the HP developed production scale Multi Jet Fusion process (photograph below).
‌


April 2018
Emmanuel Ekoi represented UCD at the 21th Sir Bernard Crossland Symposium

March 2018
A paper titled - Enhancing the mechanical performance of additive manufactured polymer components using atmospheric plasma pre-treatments, H. M. Abourayana, P. Dobbyn, D. P. Dowling, Plasma Processes and Polymers, e1700141, 1-8, 2017, was highlighted in Advanced Science News: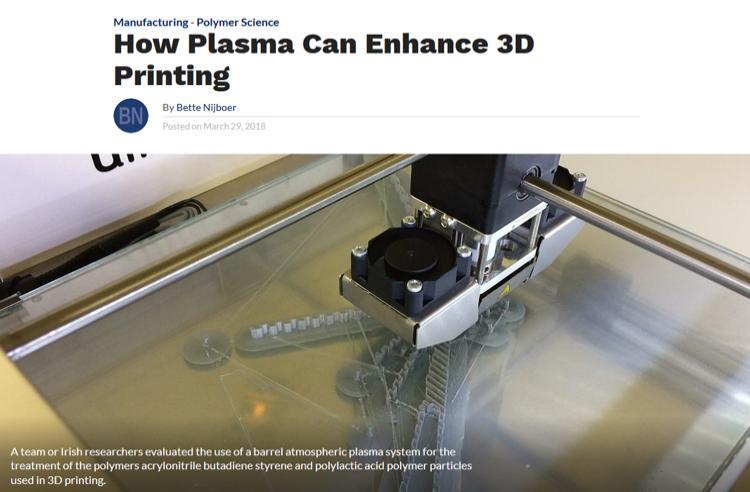 Conor Luttrell was runner-up of the BOC Competition for 2nd year UCD Mechanical Engineering PhD students. His presentation was entitled 'An Investigation of Composite Fabrication Using Autoclave and Out-of-Autoclave Processing'
April 2017
Andrew Dickson was awarded 2nd place position at the 20th Sir Bernard Crossland Symposium for his Poster and Presentation on Additive Manufacturing. This all Ireland symposium is organized for PhD researchers in Mechanical Engineering and related disciplines.
March 2017
Andrew Dickson was the winner of the BOC Competition for 2nd year UCD Mechanical Engineering PhD students. His presentation was entitled 'Additive Manufacturing of Continuous Fibre Reinforced Polymer Composites'.
September 2015
Prof. Kazuo Yamazaki of the Machine Tools Technology Research Foundation (MTTRF) visited the UCD Learning Factory in Smart Precision Manufacturing. The Mori Seiki 5 axis machining centre on loan from the foundation is one of the key elements of this Learning centre.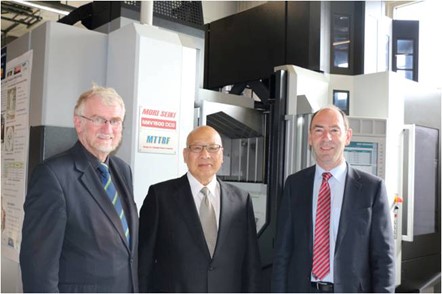 Prof. Kazuo Yamazaki MTTRF (Centre) during his visit to the UCD Learning Centre, pictured along with Gerry Byrne and Denis Dowling.
April 2015
A Group paper was cited by the journal Biointerphasesas being in the top five of its most read papers in 2014. The paper is titled "Evaluation of protein adsorption on atmospheric plasma deposited coatings exhibiting superhydrophilic to superhydrophobic properties", C. P. Stallard, K. A. McDonnell, O. D. Onayemi, J. P. O'Gara and D. P. Dowling, 7(1-4), 31, 2012. A second group paper was also cited in this journal as one of the 4 most read for the month of April. The paper was titled: "Evaluation of the sensitivity of bacterial and yeast cells to cold atmospheric plasma jet treatments", M.A. Sharkey, A. Chebbi, K. A. McDonnell, C. Staunton and D.P. Dowling, 10, 029507 (2015).
July 2014
The Precision CLUSTER was successfully completed. Highlights from the project over the last five years, along with some interesting interviews with both industry and past students are given in the following interactive magazine link: www.dcu.ie/sites/default/files/ncpst/3dissue/index.html
December 2013
At the AGM of the Institute of Materials Finishing (IMF) (www.materialsfinishing.org) on December 4th Dr. Denis Dowling was presented with the Institute's Gold Medal Award. This is the highest accolade given by the Institute. "It is presented from time to time for outstanding personal, scientific or technical achievement relevant to the objectives of the Institute." It is only the 15th time in the Institute's 88 year history that this medal has been awarded.
June 2013
Stephen Sheehan won the best presentation prize at the Universitas 21 Graduate Research Conference on Energy. Stephen was one of two UCD researchers selected to make a presentation at the Conference held at UCD on June 19-22nd . The title of his presentation was Evaluation of Microwave Plasma as a Rapid Energy Efficient Processing Technology for the Fabrication of DSSC's.
March 2013
The slides presented by Dr Ahmed Chebbi on Plasma Medicine at the 2013 European Wound Management Association (EWMA) conference in Copenhagen, have been selected as a 'quality demonstrator' template for this year's conference: www.slideshare.net/EWMA/ep449-presentation-2
April 2013
Claire Staunton won the best poster prize at the Sir Bernard Crossland Symposium held on April 10/11th at TCD. The title of her poster was A Novel Method of Wound Treatment using Atmospheric Plasmas.
December 2012
Dr. Denis Dowling was the recipient of the UCD Innovation Award. In making the award Prof. Peter Clinch detailed that the award "… is in recognition of your outstanding commercialisation activities as well as your extensive national and international collaborative links with industry developed over many years".
October 2012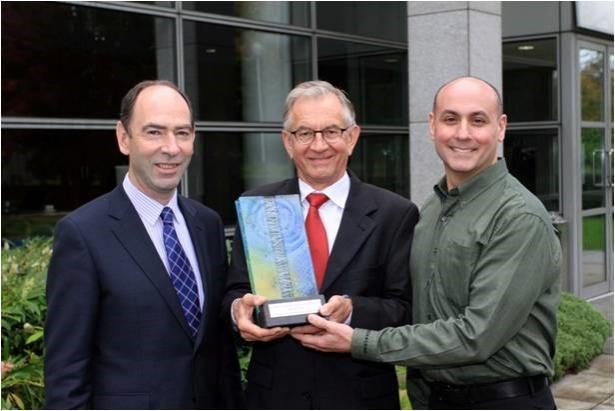 Dan Hook (President of the Surfaces in BioMaterials Foundation) and Denis Dowling at the presentation of the Excellence in Surface Science award to Marcus Textor (Centre) at the BioInterface Conference, UCD, October 23-25th 2012. This was the first time in the conferences 21 year history that it has been hosted outside the USA: www.biointerface2012ireland.com
September 2012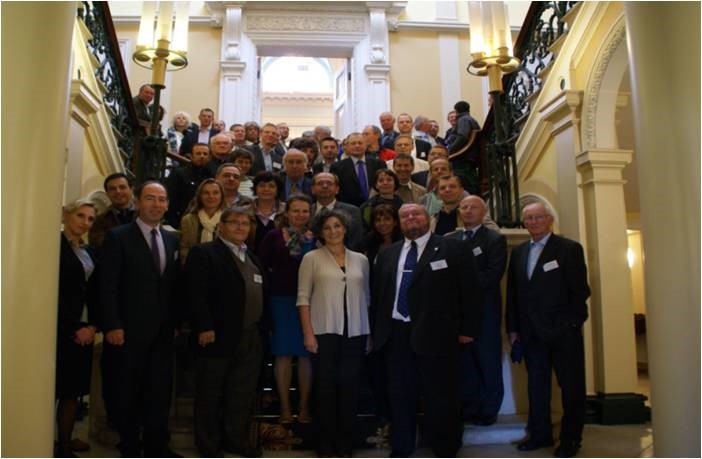 Delegates at the COST Materials, Physics, and Nanosciences (MPNS), 6th Annual Progress Conference which was host by the Surface Engineering Group in Dublin, September 11-13th 2012.
July 2012
Dr. Feidhlim O'Neill has been promoted to Senior Member of the international society for optics and photonics, SPIE. SPIE serves more than 225,600 constituents from approximately 150 countries. SPIE Senior Members are selected on the basis of their professional experience, their active involvement with the optics community and SPIE, and/or significant performance that sets them apart from their peers.
http://spie.org/app/profiles/viewer.aspx?profile=PGFMHD
January 2012
Claire Staunton was awarded second prize in the New Student Researcher Presentation competition at the 18th Bioengineering in Ireland (BINI) Conference held at Queens University Belfast. Claire's presentation and poster were titled Plasma Medicine – Application of 'weak' atmospheric plasmas to cells.
December 2011
Charlie Stallard was selected as a winner in the UCD Images of Research competition. The image entitled 'Sitting Pretty' shows coloured water droplets on plasma treated tissue paper. Using low temperature plasma it is possible to apply protective barrier coatings to sensitive materials. In this example, plasma modification creates nano sizes surface structures which trap tiny pockets of air. Placed close enough together, these structures form air cushions creating a barrier to wetting due to the droplets own surface tension.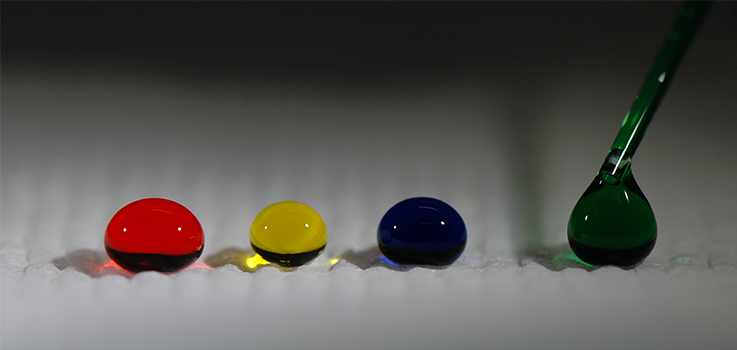 September 2011
European Society for Biomaterials (ESB) 2011 conference - Dr. Maria Katsikogianni won a best poster award for her poster titled "Enhancing Cell Adhesion on 1mm Internal Diameter Microwell Cell Arrays Using Atmospheric Plasma Jet Treatments".
April 2011
A paper titled "Enhancing the mechanical properties of superhydrophobic atmospheric pressure plasma deposited siloxane coatings" by Charles E. Nwankire, Gregory Favaro, Quynh-Huong Duong and Denis P. Dowling, is featured on the cover of the April edition of the journal Plasma Processes and Polymers.
March 2011
Charlie Stallard was the winner of the BOC Competition for 2nd year UCD Mechanical Engineering PhD students; his presentation was entitled 'Bio-Applications of Atmospheric Plasma Deposited Superhydrophobic Coatings'.
February 2011
Binh Dang received an award for best poster at the Nanoweek 2011 Conference (31st Jan - 1st Feb 2011, Carton House, Kildare). The prize was sponsored by Analog Devices. Binh's poster was entitled: Enhancing the photoactivity performance of titanium dioxide (TiO2) coatings.
December 2010
UCD Festival of Research and Innovation - Earth Sciences, Energy & The Environment: Muhammad Awais won the best 'Innovation' poster for his research on microwave sintering, while Binh Dang came second in the 'Energy' category for his poster on photoactive TiO2 coatings.
July 2010
The image below was entered by the Surface Engineering Research Group in the UCD 'Images of Research' competition 2010. It is a dye sensitised solar cell fabricated from titanium oxide on a conducting glass substrate. The cell exhibits a 6% sunlight conversion efficiency.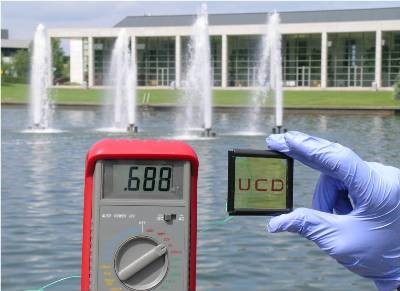 (UCD Surface Engineering Research Group Solar Energy Cluster Project)
April 2010
RTE Eco Eye featured an Interview with Dr Denis Dowling of the Surface Engineering Research Group. The feature focused on packaging waste, and the interview discussed the Surface Engineering Group's work on biodegradable polymers. The interview was broadcast on RTE 1 on Tuesday 27th April.
The Irish Times on Thursday 29th April featured an article on UCD Surface Engineering PhD student Charles Nwankire's research into anti-fouling of surfaces. Charles won the 2010 Science Speak competition at the RDS Dublin. Click to read the article: www.irishtimes.com
Aidan Breen was the winner of the BOC Competition for 2nd year UCD PhD students for his project on the microwave plasma sintering of diamond composites. He went on to represent UCD at the 13th annual Sir Bernard Crossland Symposium and Postgraduate Workshop and was ranked third in this inter-university competition involving Mechanical Engineering researchers from all Irish universities.
March 2010
Dr. Malika Ardhaoui was awarded an IRCSET funded Inspire programme for postdoctoral fellows. The title of her research project is - Biofuel cells optimization on nanostructured surfaces elaborated by plasma technology. As part of her research programme Malika will spend 18 months with Prof. Farzaneh Arefi-Khonsair group at the Universite Pierre et Marie Curie, Paris.
February 2010
Rapid Discharge Sintering was featured on the Cover of Leading Trade Journal, Metal Powder Report. The February 2010 issue of Metal Powder Report - the international magazine of the powder metallurgy industry - featured an article on the Group's research on rapid discharge sintering. The topic was also featured on the cover of the magazine. The article covered the dramatically reduced sintering times that can be effected for processing small numbers of green compacts.
January 2010
Winner 2010 EMPS Speak Competition Charles Nwankire was joint winner of the UCD Graduate School 2010 EMPS Speak competition. He won for his presentation of an overview of his research on anti-fouling coatings deposited using atmospheric plasmas.
2009
Patrick Murphy, a Final Year Mechanical Engineering student, working within the Group, won the Institution of Mechanical Engineering 'Best Medical Engineering Project' 2009. Patrick's project was entitled 'Evaluating ellipsometry as a method of detecting protein adhesion' won the award at the competition finals in London.