News
2017
Call for Expressions of Interest from Community-Based Organisations for Student Volunteers
Every year UCD welcomes a group of "Freshmen" students from the USA, who complete their first semester in college with ourselves, before heading home to study.
Part of their learning experience is that the students take part in a Service Learning Programme, where they complete 8 weeks of volunteering (usually 2 hours per week). The students usually really enjoy this aspect of the programme, as they often have a lot of previous volunteering experience, as their home university has a reputation for volunteering and internships. The students are available to volunteer in a wide range of activities, such as administration, retail, befriending and helping with IT skills, to name a few.
There are approximately 131 students arriving, who would be available to begin volunteering on approximately September 18th 2017 (with their first session being an orientation session), and completing their volunteering work week ending November 17th. Weekend volunteering is not an option for these students.
If your organisation would be interested in acquiring volunteers for these 8 weeks, please
do get in touch
and further information will be provided.
UCD in the Community invite all staff members to attend free English classes
UCD in the Community are currently collaborating with the UCD Applied Language Centre, to offer free English classes to staff members who would like to learn English. Perhaps English is not your native language and you would like to improve your conversation? The classes will commence in Septemeber 2017 and will ultimately be student-led, therefore we want to hear from you! What would you like to learn more of? Small-talk conversation? Interview skills and conversation? Let us know. This invitation is open to all staff members, from security to catering to cleaning staff. Contact ucdic@ucd.ie to express and interest and to find out more information.‌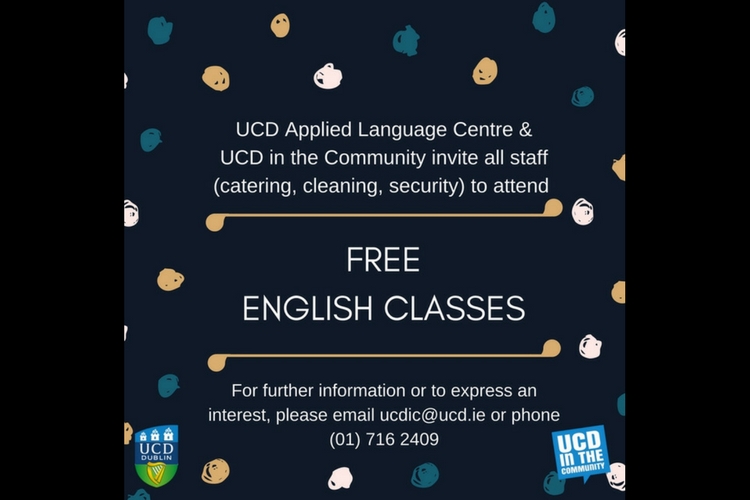 UCD in the Community are recruiting Student Leaders to join the team!
UCD in the Community are currently recruiting Student Leaders, to become part of the UCD in the Community team. UCD in the Community Student Leaders will volunteer their time to help other students, staff, alumni and community-based organisations. Volunteering duties may include; helping to organise the Volunteer Fair, attending UCD in the Community Information Sessions, recruiting fellow peers to join the UCD in the Community team, excursions into the community to meet key contacts in community-based organisations and helping to faciliate students to volunteering opportunities. Student Leaders will receive support and guidance throughout their volunteer experience. For more information, please email ucdic@ucd.ie, or click here to apply.‌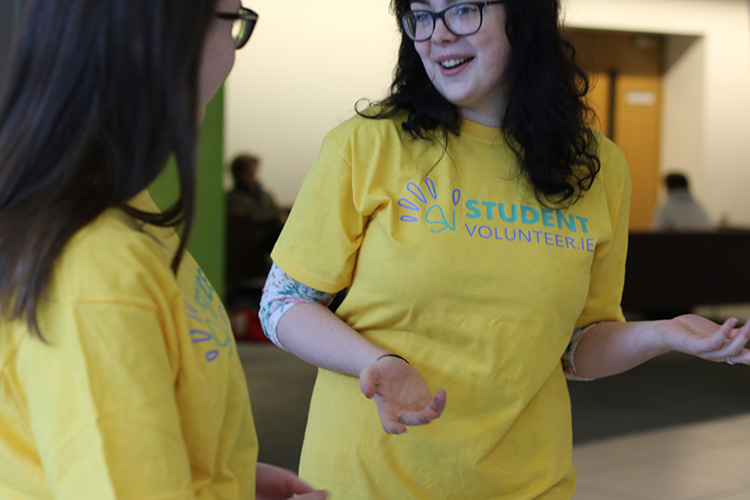 2016
New Technology to Scale-Up Student Volunteering at University College Dublin
Every year in Ireland thousands of students from our universities and institutes of technology carry out over 100,000 hours of volunteering. UCD and nine other third level colleges have now joined forces to develop studentvolunteer.ie - a brand new online resource which matches students' interests with volunteering opportunities. The portal is the first of its kind globally and aims to enhance students' awareness of their role and responsibility in solving challenges such as homelessness, social exclusion and our ageing population.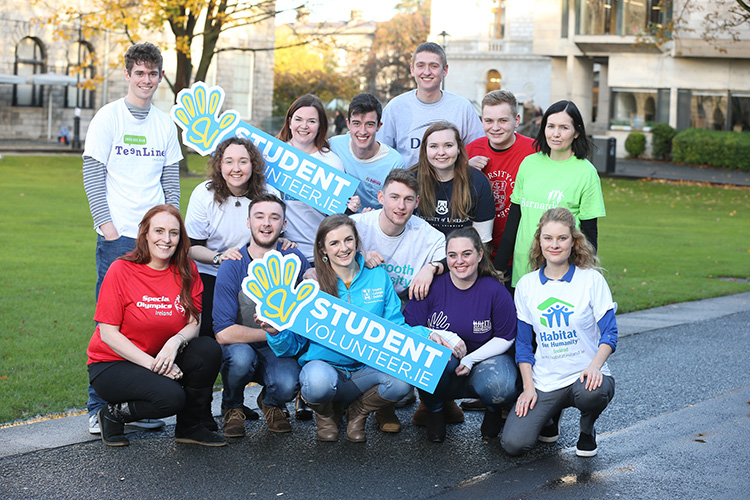 ‌
‌Celebrating the launch of studentvolunteer.ie are; Front row l-r: Breffni Gorman (Special Olympics Ireland), Dan Kiernan (UCD), Ciara Gaffney (Trinity College Dublin), Jenessa Scott (IT Tallaght), Lilly O'Mahony (Habitat for Humanity). Middle row l-r: Roisin O'Donovan (DIT), Darragh Moran (Maynooth University), Andrea Habenicht (UL), Suzanne Connolly (Barnardos). Back row l-r: Conor Doyle (TeenLine Ireland), Ann-Marie Bright (IT Tralee), Shane Gaughan (NUI Galway), Vito Moloney (DCU), Callum Petford (UCC).
"In our work for the Saint Vincent De Paul Society here at UCD, we know that we'll never be able to solve the housing crisis or eliminate poverty in Ireland. What we can do, is make somebody's day a little bit better. Volunteering is a great opportunity to make friends, it broadens your perspective on the world, and makes you appreciate what you have. It's an opportunity to put a smile on someone's face." Dan Kieran, student, University College Dublin.
Potential users include up to 100,847 (HEA 2015) students across all higher education institutions and up to 8,000 registered Civil Society Organisations. For charities such as Barnardos, Habitat for Humanity, TeenLine and Special Olympics Ireland, student volunteering is a vital component of their ongoing work:
"With over 3,000 registered volunteers under 25 years old, Special Olympics Ireland depend on the student volunteers among our younger supporters to assist with our fundraising activities and sustain our programmes through working in our clubs, helping at events and participating in committees at local and regional level". Claire O'Connor, Volunteer Services Manager, Special Olympics Ireland
Shortlisted for the 2016 THINKTECH awards, studentvolunteer.ie has been developed under the umbrella of the Campus Engage Network based at the Irish Universities Association. There are currently 10 Higher Education Institutions (HEIs) invested in the portal: UCD, NUI Galway, IT Tralee, UL, MU, Trinity, IT Tallaght, DCU, UCC and DIT. The online system is open to ALL Higher Education Institutions (HEIs), private colleges, VECs, etc.
Students at UCD can browse and apply for volunteering opportunities nationally or internationally; manage their profile and volunteering activity online; track volunteering hours; gain recognition and apply for volunteering awards.
The civic role and responsibility of colleges and their graduates is becoming a central issue in the global education discussion, with increasing pressure on institutions to demonstrate how higher education is adding value to society.
"By effectively using technology to make volunteering easier, Campus Engage is helping universities and institutes of technology to scale up this socially impactful enterprise." Kate Morris, National Coordinator, Campus Engage, Irish Universities Association.
The value of volunteering is recognised by the United Nations who have designated December 5th as International Volunteer Day (IVD).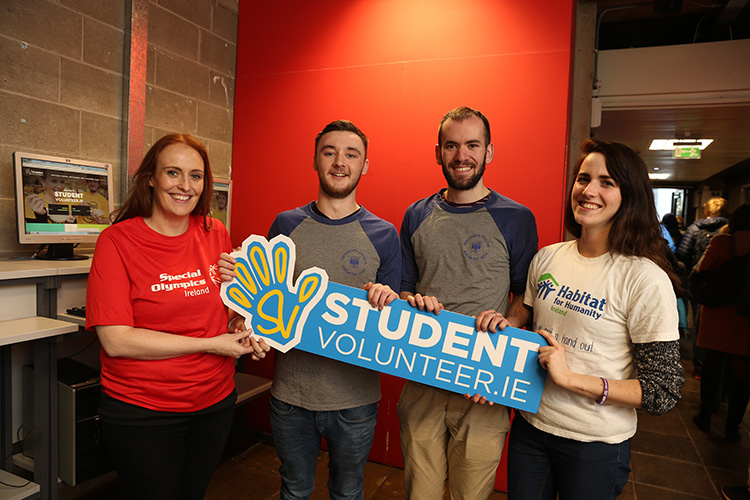 ‌‌‌Celebrating the launch of studentvolunteer.ie are Breffni Gorman (Special Olympics Ireland); Dan Kiernan UCD Student; Eoin Gleeson UCD Student; Clare Cullen (Habitat for Humanity)
Volunteering has numerous benefits for students and for society. Ireland's new National Skills Strategy 2025 focuses on graduate attributes such as high level cognitive, leadership, entrepreneurial, analytical and interpersonal skills. Volunteering is an excellent outlet for students to test, refine and put these skills into action. These skills are very much valued by employers:
"In an increasingly competitive employment market, when I review CV's the selflessness of a volunteer can stand out like a beacon in a sea of self-interest. The functional expertise that a volunteer can learn in an organisation, offers a head start compared to others who start at the beginning when entering permanent employment for the first time." Billy Norman, Customer Account Manager in Unilever
Evidence shows that getting out and volunteering can improve individual mental health and well-being. Volunteering is also an excellent pathway for international students in Ireland to integrate into their communities and make new friends. Higher education institutions across the country are battling student retention. Getting involved in extracurricular activity on and off campus is proven to keep students in college. International volunteering cultivates core graduate attributes such as cultural awareness, languages and increased understanding of global social responsibility.
"In my involvement with youth clubs it became clear that the main role of them is to provide structure and motivation to kids from disadvantaged backgrounds. It is great to get the opportunity to volunteer alongside like-minded people as part of a team to create a better sense of social justice." Eoin Gleeson, student, University College Dublin.
Becoming More Socially Aware and Engaged
UCD in the Community worked with students from the Innovation Academy in UCD along with CSOs and UCD staff to challenge the way UCD thinks about how we can become more socially aware and engaged.

Making Connections #GHGH Campaign
Making Connections is a non-profit organisation working with Health Services and community groups since 2009, to alleviate loneliness and isolation in the community of Dun Laoghaire-Rathdown.
---