'Anatomy Kingdom' Art Exhibition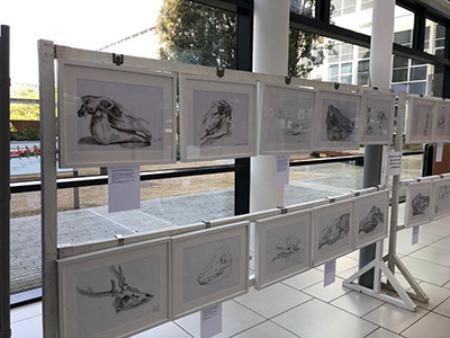 An exhibition of artwork depicting elements of veterinary anatomy was held in the UCD O'Brien Centre for Science on 10 April. The 'Anatomy Kingdom' art exhibition was the brainchild of staff from the School of Veterinary Medicine and was funded by UCD's SPARC (Supporting Partnership and Realising Change) programme. The project saw staff and students of all artistic abilities from across the university come together for lunch time drawing sessions. The classes were held every Monday at lunchtime over a 6-month period, and the specimens used in the classes were from the School of Veterinary Medicine's anatomical teaching collection.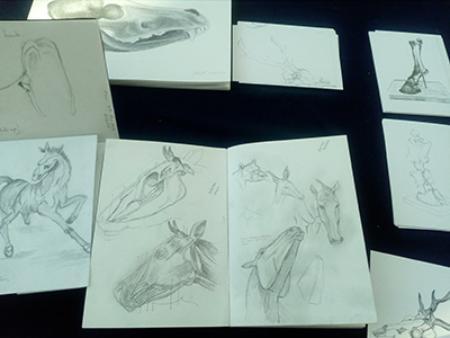 Niamh Nestor, Marie Tumilson and Catherine McCarney from the Vet School teamed up with Catriona Keane, Student Adviser for the College of Science, to manage the project, and the classes ran under Catriona's excellent art direction and supervision. The exhibition proved to be a fantastic opportunity for the participants to display their work and we were delighted that so many people from across campus came to have a look. The exhibition will run again as part of the UCD Festival on 8 June. For more on the UCD Festival see: http://festival.ucd.ie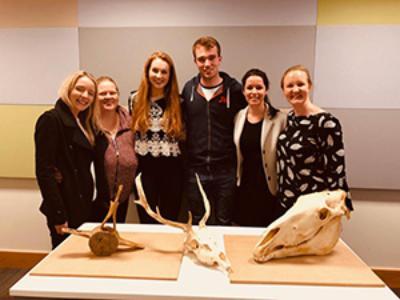 Pictured is the Anatomy Drawing for All SPARC Project Team: Marie Tumilson (Senior Laboratory Attendant), Catherine McCarney (Senior Technical Officer), Maria Lagan (4th Year Vet student & Auditor of VetSoc), Peter Howard (4th Year Vet student & Treasurer of VetSoc), Catriona Keane (UCD Student Adviser for Science), Niamh Nestor (UCD Student Adviser for Vet Med).