Research News
Clinical Stars of the Future! Congratulations to Dr Clodagh Kearney and Dr Conor McAloon who have been awarded funding under the UCD Wellcome Trust ISSF Clinical Primer Scheme.
UCD recognizes that nationally, and within the university itself, there is an urgent need for more veterinary and medical scientists to enable research translation. The Wellcome Trust Institutional Strategic Support Fund (ISSF) Clinical Primer Scheme within UCD has been established to incentivise and support early careers of medical and veterinary clinicians, practitioners, and individuals within the allied health services e.g. dentists, nurses, physiotherapists etc. The Scheme is ultimately aimed at unlocking a new clinical talent pool which will be essential for underpinning the University's future success in the priority areas of Personalised & Translational Medicine and One Health. UCD recently announced the first round of awardees under this scheme, and we are delighted that Dr Clodagh Kearney and Dr Conor McAloon were among the recipients.
Dr Clodagh Kearney, Assistant Professor and Clinician in Large Animal Surgery, who will utilise an equine model to develop innovative "One Health" treatments for arthritis.
Dr Conor McAloon, Assistant Professor and Clinician in Bovine Health Management, who will undertake a research project elucidating the role of the environment in bovine respiratory disease.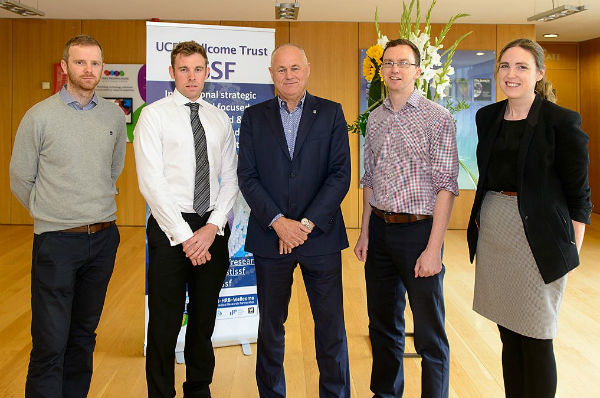 Dr Conor McAloon (far left) and Dr Clodagh Kearney (far right) with Professor Michael Doherty, Dean & Head of School, and fellow awardees Dr Conor Magee and Dr David Crosby, UCD School of Medicine.