Agricultural Science Association Sheep Masterclass at UCD Lyons Farm - 17 January 2018
The Dean and Head of the UCD School of Veterinary Medicine, Professor Michael Doherty, was invited to speak at the Agricultural Science Association's Sheep Masterclass held at UCD Lyons Farm on 17 January. This event, which was sponsored by Irish Country Meats, was organised by Associate Professor Tommy Boland from the UCD School of Agriculture and Food Science. The event attracted nearly 60 delegates to hear a range of expert speakers from UCD, Teagasc and the feed industry.
The Masterclass was a day-long event, divided into a series of presentations in the morning, followed by workshops in the afternoon. The morning sessions focused on genetics, nutrition and animal health. Andrew Kinsella, formerly of Teagasc and now a sheep farmer, got proceedings underway by looking at the current challenges facing the sheep industry nationally. With the shadow of Brexit looming over one of our main export markets, the focus of the talks was on optimising farm efficiency through selection of appropriate genetics for Irish pasture based production (Noirin McHugh, Teagasc), maintaining individual and flock health (Professor Michael Doherty), avoiding and correcting mineral imbalances in the diet (AnneMarie Crowley, Trouw Nutrition), using herbs and legumes in the swards to improve animal performance and health (Assoc Professor Tommy Boland) and nutritional management to improve performance and profitability of hill lambs (Professor Michael Diskin, Teagasc & Adjunct Professor, UCD School of Agriculture and Food Science).
The Dean, who is the only European Board-Certified Sheep Health Specialist in Ireland, presented on 'Flock Health Challenges.' Professor Doherty has a broad range of experience of investigating and delivering control programmes on Irish sheep farms for a wide range of health issues, including lameness, respiratory disease, lamb mortality and genetic disorders. In his presentation, he began by looking at sheep health priorities and the need for flock health planning. He also looked at the importance of data collection and problem analysis, with an emphasis on putting together action plans that are as simple and practical as possible. Bio-security issues at local and national level were discussed, and Animal Health Ireland was looked at as a possible model for progress. As described on Twitter, it was a case of 'Happy days for the Donegal-reminiscing Dean!'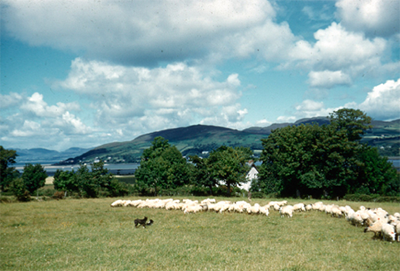 The afternoon workshops then looked at late pregnancy nutritional management of the ewe and how to avoid common pit falls. Workshop topics included forage quality and supplementation during late pregnancy (Assoc Professor Tommy Boland), the importance of body condition score management in late pregnancy/early lactation (Frank Campion, Teagasc) and Winter housing at Lyons (Stephen Lott, UCD Lyons Farm). The day was received very positively by all in attendance and we are delighted that the UCD School of Veterinary Medicine was invited to contribute to what was such a successful and informative event.
Presentations from the ASA Masterclass can be downloaded at http://www.asaireland.ie/events/asa-sheep-materclass/